The man who cops believe gunned down four people at a Waffle House restaurant in Tennessee was arrested Monday, just over an hour after cops admitted he led police on a chase in a stolen BMW days before the rampage.
Travis Reinking, 29, was taken into custody just after 1 p.m. ET, the Nashville Metro Police Department told reporters at a news conference Monday.
He has been booked into the Metro Jail on four counts of criminal homicide, and is being held in lieu of $2 million bond, according to police. His first court appearance is scheduled for Wednesday morning on the General Sessions Court jail docket.
He was arrested in a wooded area not far from his apartment.
A citizen's tip led to the arrest of the suspect, who had been on the run in the area since early Sunday morning. Authorities said they followed Reinking onto a pathway in a wooded area, where an officer saw his face and confirmed his identity.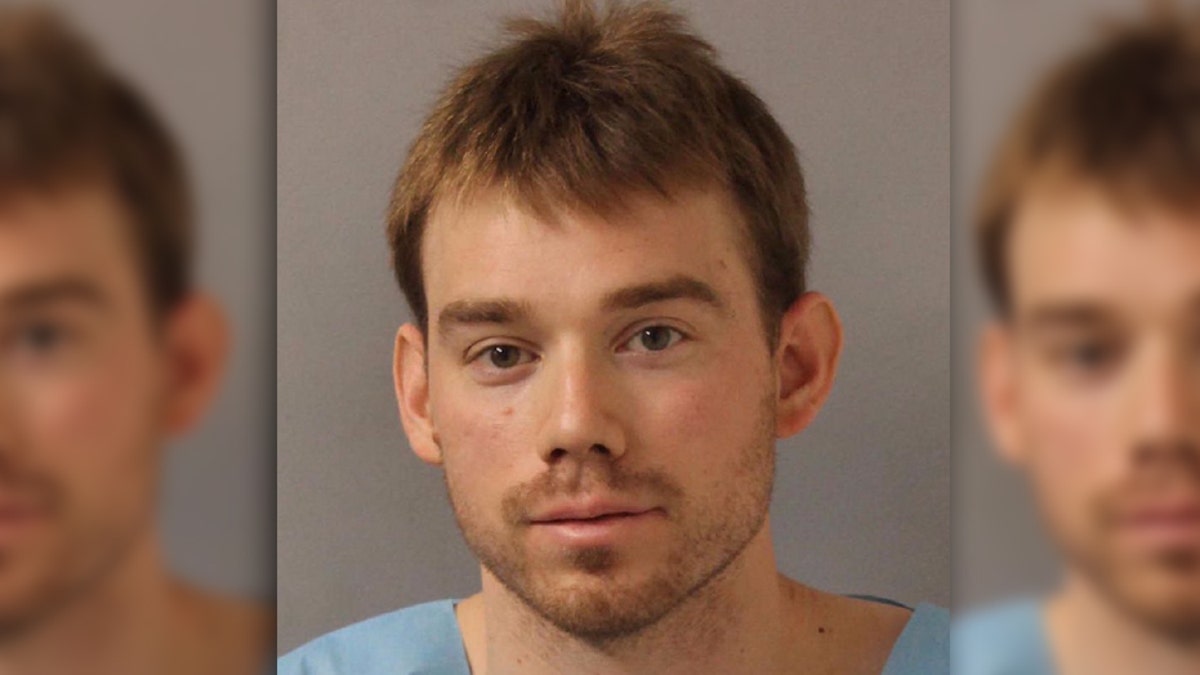 The officer ordered Reinking to the ground, and officials said he did so "immediately." Reinking was taken to a police precinct, where he requested a lawyer and refused to make a statement, police said. He then was taken to a hospital to be "checked out," and later will be transported to jail and booked on four counts of criminal homicide.
WAFFLE HOUSE SHOOTING VICTIMS INCLUDE 'BRILLIANT' COLLEGE STUDENT, ASPRING RAPPER
Reinking was wearing a backpack at the time of his arrest, which law enforcement said contained a semiautomatic weapon, ammunition, a holster and a flashlight.
Earlier Monday, authorities disclosed that Reinking stole a BMW from a dealership in Brentwood on Tuesday and led authorities on a chase before they lost him in heavy rush hour traffic.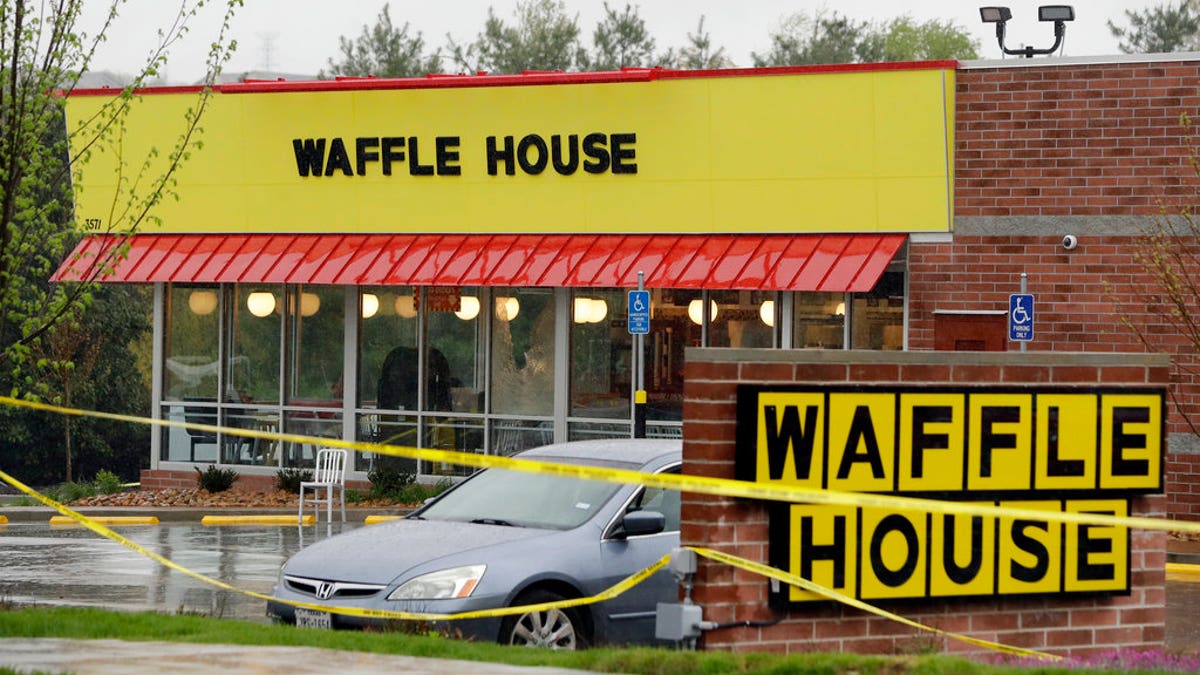 Metro Nashville Police spokesman Don Aaron told reporters cops chased the vehicle, but then opted to track the car via a GPS device.
The vehicle was recovered the same day at Reinking's apartment complex in neighboring Antioch. Aaron said authorities did not know Reinking's identity at the time since he did not provide identification at the dealership before taking the vehicle.
"They had no idea who the man was," he said.
WAFFLE HOUSE SHOOTING SUSPECT THOUGHT TAYLOR SWIFT WAS STALKING HIM, WAS ARRESTED AT WHITE HOUSE
Aaron also said a civilian found a soft laptop case on Sunday night near a truck stop along Interstate 24 and brought it home with him. Police said the person found a handwritten ID card with "Travis Reinking" on the bag.
Authorities believe that Reinking was in that area on Saturday night, but aren't sure if the laptop case wound up in that area before or after the shooting.
Aaron also said a report of shots fired Monday near a police staging area was not related to the search for Reinking.
Reinking, who was naked during the shooting except for a green jacket and assault rifle, may have "mental issues," authorities said.
More than 160 Nashville officers were joined by officers from the Tennessee Highway Patrol, the FBI and ATF in the search for Reinking, who was also added to the Tennessee Bureau of Investigation's Top 10 Most Wanted list.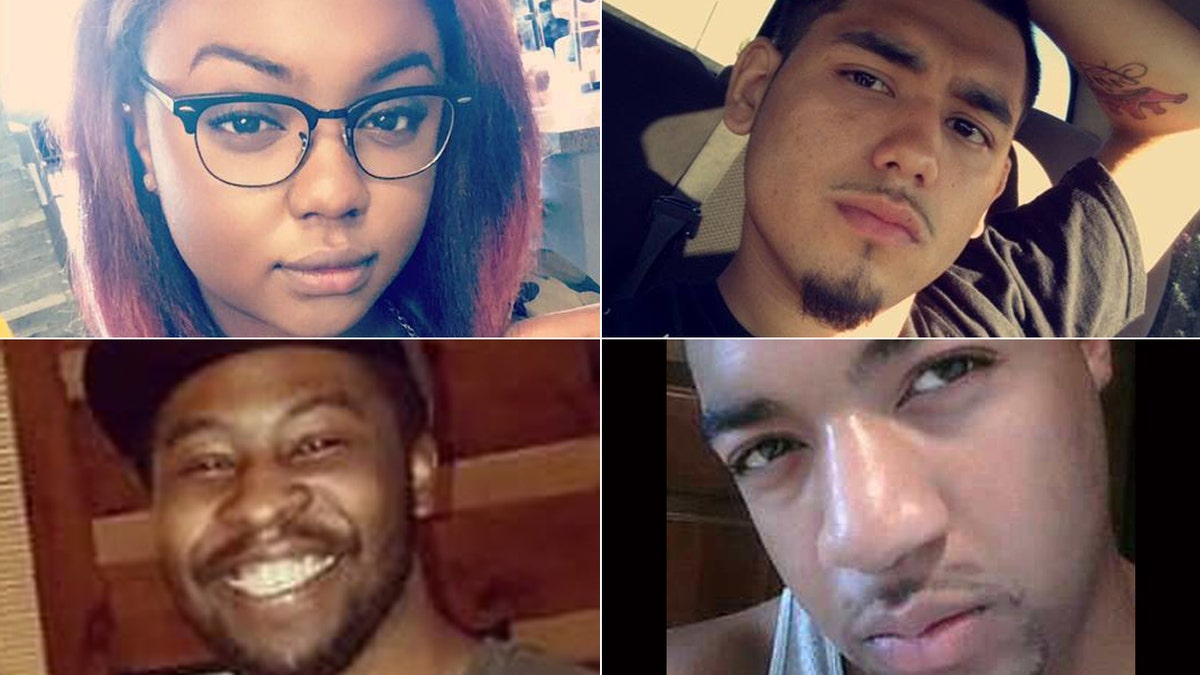 Reinking drove to the busy restaurant on Sunday and killed two people in the parking lot before entering and continuing to fire, police said. When his AR-15 rifle either jammed or the clip was empty, the customer disarmed him in a scuffle. Four people also were wounded before the gunman fled, throwing off his jacket.
The dead were identified as 29-year-old restaurant worker Taurean C. Sanderlin, and restaurant patrons Joe R. Perez, 20, Akilah Dasilva, 23, and DeEbony Groves, 21.
A police statement said Sanderlin and Perez were killed outside the restaurant, Groves was fatally shot inside, and Dasilva was critically wounded inside and later died at Vanderbilt University Medical Center.
Reinking has a history of run-ins with police — including once telling cops that music star Taylor Swift was stalking him.
NASHVILLE SCHOOLS IN 'LOCK-OUT' MODE AS MANHUNT INTENSIFIES FOR WAFFLE HOUSE SHOOTING SUSPECT
Authorities in Tazewell County, Ill. revealed Sunday that police encountered Reinking in a CVS parking lot on May 27, 2016 during an apparent "mental health crisis," according to a police report obtained by Fox News.
At the time, deputies said Reinking believed Swift was stalking him, hacked his phone and had climbed a building to chase him. He also threatened to kill himself, according to the sheriff's report.
Reinking, whose relatives claimed he had been having delusions since August 2014, said Swift hacked his Netflix account and told him to meet her at a Dairy Queen, according to the report.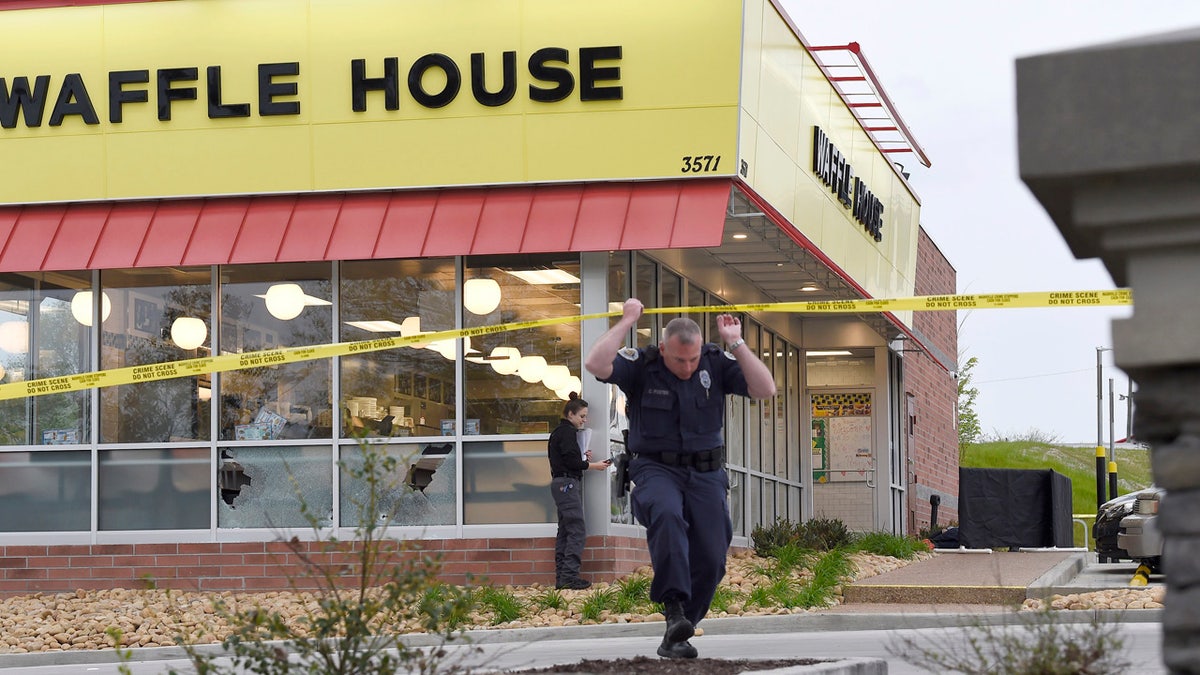 A little over a year later, the Tremont Police Department found Reinking swimming in a public pool in his underwear and reportedly exposing himself. In that June 16, 2017 incident, Reinking was wearing a pink woman's coat over his underwear at the time, and a concerned citizen contacted authorities because they believed he had an AR-15 rifle in his possession, the report said.
Investigators believed he had an AR-15 rifle in his car trunk, but it never was displayed and no charges were filed.
Last July, Reinking was arrested by the U.S. Secret Service after he crossed into a restricted area near the White House and refused to leave, saying he wanted to meet President Donald Trump.
Reinking was not armed at the time, but at the FBI's request, Illinois state police revoked Reinking's state firearms card and seized four of his guns, authorities said. The AR-15 used in the shootings on Sunday was among the firearms seized.
Fox News' Edmund DeMarche, Frank Miles and The Associated Press contributed to this report.