Virginia shelter says dog set on fire, suspect sought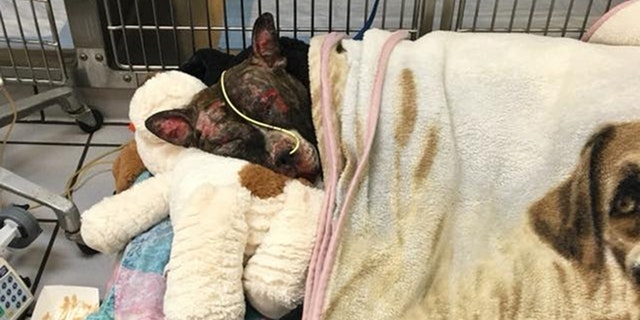 A Virginia animal shelter is asking for the public's help looking for someone who apparently lit a dog on fire at a city park.
The dog, a male brindle pit bull, was found tied to a pole at a park in Richmond, "covered in accelerant and intentionally lit on fire," Richmond Animal Care and Control wrote in a Facebook post on Monday.
FRENCH TOWN IMPOSES FINE ON DOG OWNERS FOR 'PROLONGED BARKING'
Witnesses told the shelter that an adult male "wearing multiple layers of pants" was spotted running from the area around 7:30 p.m. on Sunday.
Officials at the shelter, who named the dog Tommie, said that 40 percent of the dog's body was burned, and he is being treated at Virginia Veterinary Centers.
CLICK HERE TO GET THE FOX NEWS APP
As of Tuesday, Tommie was "doing ok. Just ok. Not much better but thankfully not much worse," the shelter said.
Those with information on the incident are urged to contact the Metro Richmond Crime Stoppers at 804-780-1000.