Virginia police officer charged in death of 6-month-old daughter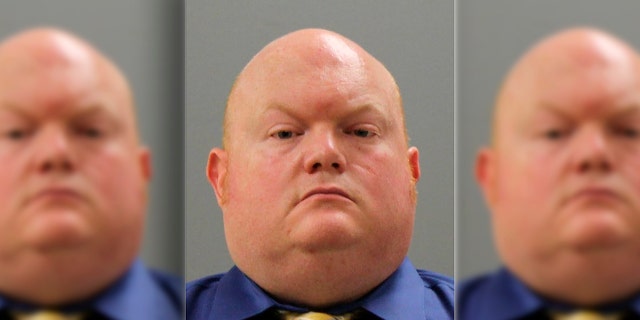 NEWYou can now listen to Fox News articles!
A Virginia police officer turned himself into Maryland police on Tuesday and was charged with multiple counts of child abuse in the death of his 6-month-old daughter.
Jason Colley, 38, of the Fairfax County Police Department in Virginia, faces charges of first degree child abuse, first degree child abuse resulting in death and child abuse in the first degree resulting in severe physical injury. Colley was also charged with first degree assault, according to an online statement from the Frederick County State's Attorney Office.
GUARDS, NURSES AND INMATE EXPOSED TO 'UNKNOWN SUBSTANCE' AT OHIO CORRECTIONAL INSTITUTION: REPORT
Fairfax County Police Chief Edwin Roessler called the charges against Colley "abhorrent," and told The Washington Post he "served Colley notice of separation from employment in accordance with Fairfax County Personnel Regulations and the Code of Virginia."
Colley, of Monrovia, Maryland, turned himself in to Frederick County authorities this week after a judge in his home state signed an indictment in the death of his infant daughter, Harper, the newspaper reported.
The indictment comes after Maryland State Police led an investigation into injuries Harper suffered in September that ultimately led to her death from "abusive head trauma" on Oct. 31.
HUMANS REMAINS IN PLASTIC BAGS FOUND IN NYC PARK, 2ND TIME IN A WEEK
In April, Maryland State Police told officials with the Fairfax County Police that Colley was a suspect in his daughter's death. He was placed on administrative leave shortly after.
Harper was Colley and his wife's only child. Andrew Jezic, Colley's attorney, told The Washington Post that his client plans to plead not guilty and he and other lawyers will "vociferously assert his innocence."
"He's been a police officer in good standing. He's had no discipline issues on the job. He's someone that appears to be widely supported by his colleagues on the force, and he has no record," Jezic added.
Frederick County State's Attorney Office said Colley was being held on a $100,000 bond, though The Washington Post reported Colley posted and was granted bond on Tuesday evening.
Trial dates have not yet been finalized, the attorney's office said.
The Associated Press contributed to this report.