Virginia girl killed while chasing after dog will be buried with pet, family says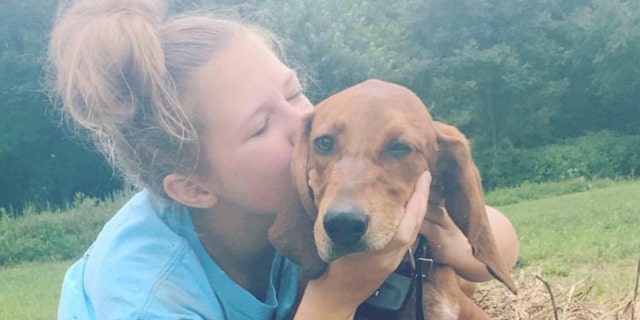 NEWYou can now listen to Fox News articles!
A Virginia girl struck by a vehicle and killed while chasing after her dog -- who also died -- will be buried with her beloved pet, her family said Monday.
Jennarae Goodbar was running after her hunting dog, Cash "Chashiemomo," on Route 60 in Rockbridge County when a driver struck the 12-year-old and her canine, WTVR reported. Goodbar was outside her home training Cash at the time.
"Goodbar was chasing the family dog when she entered the roadway and was struck by the vehicle," Virginia State Police Senior Trooper R.E. Tackett told the news site.
The incident was called a tragic accident. Her mother, Donna Jean Stuples, said her daughter and the dog will be buried together.
"On day of service, [Cash] will be placed in there with [Jennarae] and be buried together," Stuples said. "She bought her with her own cash. It was her baby."
Goodbar was a sixth-grade student at Maury River Middle School. She was described as a "country girl who was always smiling, never negative, could go from wearing cowboy boots and pants to a dress with Converse in a split second." Cash was one of her two hunting dogs.
"She loved her family, she loved her friends, she loved her dogs, her cats, her guinea pig and her bear hunting and softball families," according to an obituary published in the News-Gazette.
A GoFundMe page was created to raise money for funeral expenses. The service is expected to be held Saturday.