Vietnam POW reconnects with Hall of Famer Joe Torre, ahead of All-Star Game
It's been 49 years since Major League Baseball's All-Star Game was played in the nation's capital, but even longer since Navy Capt. Richard "Dick" Tangeman spoke at length to his childhood classmate from Brooklyn, Hall of Fame New York Yankees Manager Joe Torre.
One day before the All-Star Game at Nationals Park (8 p.m. ET Tuesday on Fox), Tangeman and Torre reconnected before a scheduled luncheon at the National Press Club in Washington with MLB Commissioner Rob Manfred.
Tangeman, a Vietnam veteran who endured torture and isolation during five years in captivity as a P.O.W., greeted his old friend by walking over with his hand extended.
Torre, having none of it, gave him a big hug instead.
"When I found out you were going to be here, your face stuck out to me because there was a picture [I found] of our grade. It was wild," Torre said.
"Because I'm handsome?" Tangeman quipped.
"What else could it be? We went to grade school together," Torre told his friends.
'I always felt baseball is the game of life. You play it every day. You have to eliminate highs and lows, and when you fall down, you have to get up and keep moving.'
The two former classmates played baseball together at St. Francis Prep in Brooklyn.
Tangeman said his teammate and future Hall of Famer was "always very kind, strong and quiet." Tangeman called Torre a "very humble" teammate despite a .752 batting average and 14 homers in only 16 games.
Torre would go on to play for 18 seasons in the major leagues beginning at age 19, spending half his playing career as an all-star.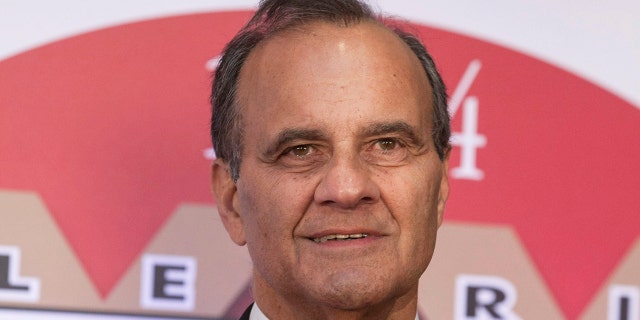 He spent another 29 years as a manger, including winning four World Series Championships as Yankees manager.
Tangeman took a different path.
After high school, he went to college nearby at N.Y.U and later become a naval aviator. Tangeman flew over 40 combat missions from the aircraft carrier USS Enterprise into North Vietnam.
On May 5th, 1968, Tangeman's RA-5C Vigilante reconnaissance jet was shot down by anti-aircraft fire 200 miles south of Hanoi in Ha Tinh Province near the border with Laos. Tangeman, the 25-year-old navigator, ejected along with the pilot, Lt. Giles Norrington. Both would survive and become prisoners of war.
Tangeman's wife Lori said her husband had already been accepted to medical school at the University of Florida and had extended his time onboard Enterprise when he was shot down.
Tangeman said after parachuting down, he was marched for 13 days north to Hanoi, the beginning of nearly five years in captivity, including time spent at the notorious Hanoi Hilton. Tangeman credits his years playing baseball to help him survive repeated torture.
"You need resilience, sharp leaders," Tangeman told Fox News. "No matter what happens, come back fighting just as hard the next day. It's like you lost the game before and then you come back tomorrow."
In 1969, the North Vietnamese allowed their American prisoners to attend Christmas Mass, Tangeman recalled. Despite fearing special treatment, a violation of the U.S. military's Code of Conduct, which instructs prisoners to accept "neither parole nor special favors from the enemy," Tangeman attended the service in order to learn the names of other P.O.Ws.
"They lost complete control at communion time because Catholics are used to running to the rail for communion, and there, we exchanged names."
Tangeman says his faith in God kept him alive.
"I said prayers all the time," he recalled. Tangeman also credits his fellow prisoners, many with advanced degrees, for sharing their expertise.
During this period, he was completely isolated from news of back home, including his childhood friend's success. Asked if he knew Joe Torre won the National League's MVP award in 1971, Tangeman replied, "I didn't know for a while that we were on the moon."
In 1973, nearly 600 American P.O.W.s returned home from Vietnam. Major League Baseball presented each with a "golden ticket" to see any regular season game in any stadium across the United States (including a guest) free of charge—with no expiration date.
"It was great. It was a shock. It even came in a nice leather case," said Tangeman.
Tangeman used the pass to reconnect with his young son, Derek, born before Tangeman deployed to Vietnam.
"We used to drive three hours down to Atlanta and go to see the games," Tangeman recalled.
While catching up with his old classmate from Brooklyn, Torre was asked why baseball brings people together.
"I always felt baseball is the game of life," Torre said. "You play it every day. You have to eliminate highs and lows, and when you fall down, you have to get up and keep moving."