Video shows San Diego cops pushing stranded disabled vet home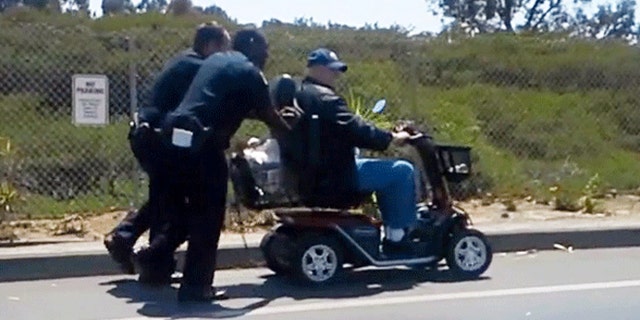 NEWYou can now listen to Fox News articles!
Video has surfaced showing two San Diego police officers helping a disabled Vietnam veteran get home after he was left stranded on his motorized scooter over Memorial Day weekend, Fox5SanDiego.com reported.
Gilbert LaRocque, 67, was on his scooter Sunday running errands when it ran out of power. He was offered a ride home, but was afraid to leave his 300-pound scooter behind.
Officers Eric Cooper and Milo Shields showed up and offered to push LaRocque about a mile to his home.
"I appreciate what they did. They went out of their way. How many people would stop?" LaRocque told KSWB.
LaRocque appears to be relishing in his new celebrity.
"I'm thinking about standing out in front of the parking lot and giving people my autograph," LaRocque said.
Shields said, "The least I could do was push him. That's the least I could do. He's sacrificed and given so much to this country."