Video shows New York City deli owner wrestling away gun during brazen robbery attempt
A New York City deli owner said he was thinking of his pregnant wife as he wrestled a handgun away from a would-be robber during a brazen, broad daylight attack Monday -- and the owner's heroics were captured on video.
Police surveillance footage released in the wake of the attempted heist at Habibi Deli in the city's Bronx borough shows Mina Farag waiting until the attacker looks down before Farag makes his move to grab the firearm.
"I think, 'St. Mary and Jesus are going to protect me…In my mind, I think, 'I can take the gun and then that is it,'" he told the New York Post.
The crook – seen in the video punching and head-butting Farag as the men struggled for control of the gun – was still on the loose Wednesday. Police describe him as a male in his 20s, and was last seen wearing a black-hooded sweater and dark jeans.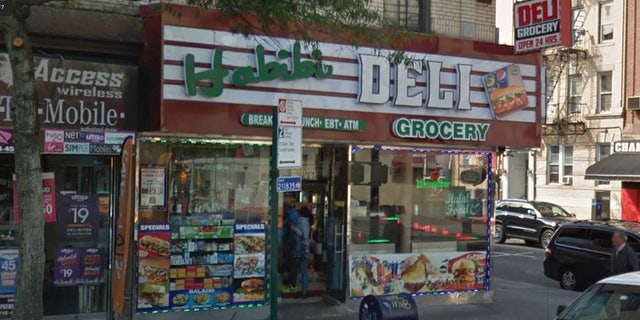 Farag, 38, said the gunman first walked into the store around 11 a.m. and ordered a few bacon, egg and cheese sandwiches – a New York City deli staple.
As the man's order was being prepared by a second deli worker, the gunman slipped behind the counter and said: "The money or I kill you!," Farag told the New York Post.
"I could see in his eyes he was crazy," Farag said. "I think, 'What is going to happen…if I die?'"
The worker making the sandwiches sprinted out of the store and the would-be thief started pistol-whipping Farag, according to the New York Post. At some point during the incident, the man lost control of the weapon and a security camera behind the deli counter captured a clear image of his face before he fled.
Farag went to a local hospital to get bandages -- and was back at work the next day.
Though he initially gave his wife a different explanation of what happened to him Monday, Farag said, by now, she likely knows the real story.
"I went home, and I tell her I had a car accident because I don't want her to worry," he told the New York Post. "I don't want anything bad to happen to the baby. Thank God everything turned out OK."