Video released of deadly semi-truck crash in Nevada that killed 2
Authorities in Nevada released dramatic video on Wednesday from a deadly crash earlier this month involving a semi-truck that's being blamed on "drowsy driving."
The Nevada Highway patrol told FOX5 Las Vegas the crash was reported just after 6 a.m. on July 18 on U.S. 93 approaching Interstate 15.
Motorists were stopped for a flagger in a construction zone at the time when the semi-truck hit the vehicles in a moment that was captured on a dashcam video.
The truck struck a Toyota Corolla that two men from Idaho were traveling in, Trooper Jason Buratczuk told FOX5. Both the men, identified as Christopher Markley, 34, and Robert Jay Barns, 50, were ejected from the vehicle and pronounced dead at the scene.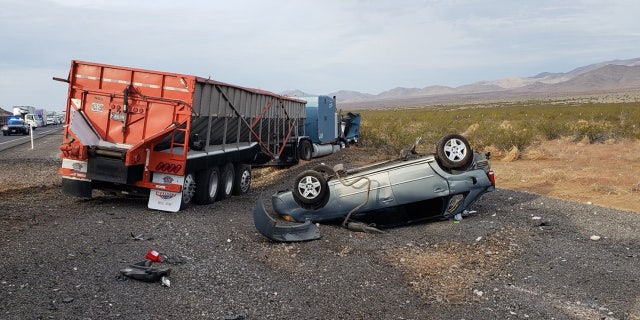 The truck then hit a Nissan, another semi-truck, and a Chevrolet Malibu before coming to a stop.
WISCONSIN MAN WHO CRASHED CAR IS TASERED AFTER DANCING BAREFOOT, USING 'KARATE MOVES' AMID TRAFFIC, COPS SAY
Buratczuk said the driver of the semi-truck who hit the vehicles admitted to "drowsy driving," and may have fallen asleep at the wheel.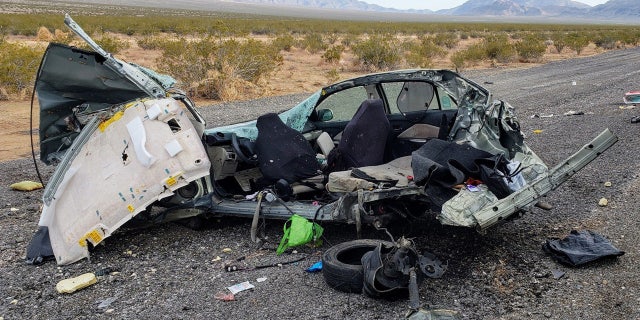 "Drowsy driving is just as bad as if you were intoxicated or texting and driving...it impairs your ability to drive a vehicle," he told FOX5.
The NHP said no charges have been filed as the crash remains under investigation.