Victim recounts Charlottesville car attack that killed 1, injured 19
Marcus Martins fiancée is forced to describe him in a way she didn't need to before. Now, "he's the guy in the photos."
The havoc of Saturday, when a man plowed his car into a group protesting a Virginia white supremacy rally, prompted the change.
Martin is "the guy" in the white shirt, shorts and red sneakers seen "in the photos" being tossed in the air behind a car alleged to have been driven by James Fields in a horrific attack that killed one person and injured 19 others.
"He had on a red hat and the hat had blood all over it. And it terrified me."
"I shouldn't be here right now, having this interview. I should be home getting ready for work," said Martin, who told Fox News the incident was a "terror attack" and a "hate crime."
Martin said he was frustrated President Trump wouldn't use those terms, though Trump on Monday gave his most passionate statement on Saturday's events, terming it "racist violence."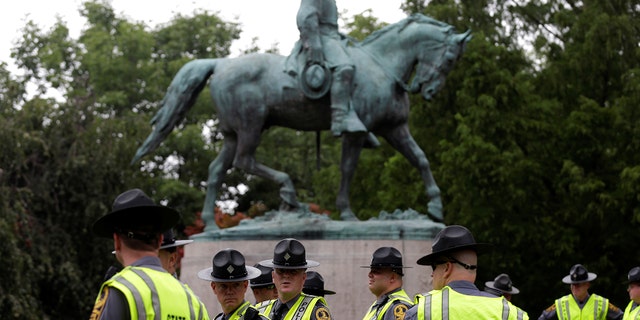 Martin and his fiancée initially decided to attend the protest with a few friends, though, Martin said, it was clear the tense atmosphere would eventually erupt.
"It was like milk and oil," he said, speaking to Fox News just a block from where he was run over. "That [white supremacist] group was not going to mix...they knew what they were doing."
Martin now sits in a wheelchair. His left leg in a beige cast. His fiancée, Marissa Blair, is physically fine. She says that's because Martin saved her.
"All of the sudden we hear a commotion," Blair said. "I see bodies flying. Your first reaction is to move, but it happened so fast. The car came so fast and all I could feel was someone push me out of the way. My fiancé pushed me out of the way.
"I looked for Marcus, and I turned around - he had on a red hat and the hat had blood all over it. And it terrified me."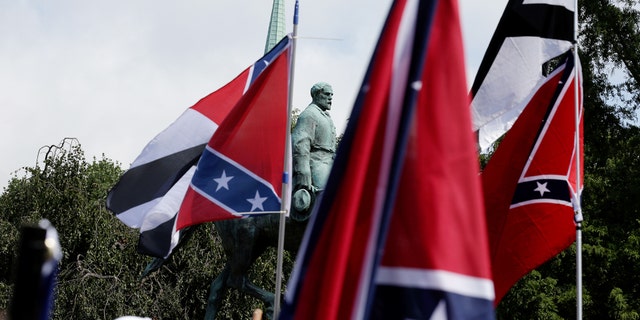 One of the most recognizable photos of that day was taken sometime around 1:42 pm, as the Dodge Challenger plowed into two other cars and a crowd of pedestrians.
The photo has since become a symbol of the hate and violence that enveloped the Virginia city.
There are shoes on the ground, under cars, as bodies hurl over the top of them.
"Marissa was on Facebook live," Martin said. "I was on my phone, and then I heard the tires screech. So I looked up and I see people just flying. I just pushed Marissa out of the way, and I took the hit."
Police said Fields, 20, intentionally drove his Dodge Challenger "at a high rate of speed" towards a crowd of pedestrians, rear-ending a sedan that then hit a minivan in front of it. All three vehicles headed into the crowd, as they crossed the street.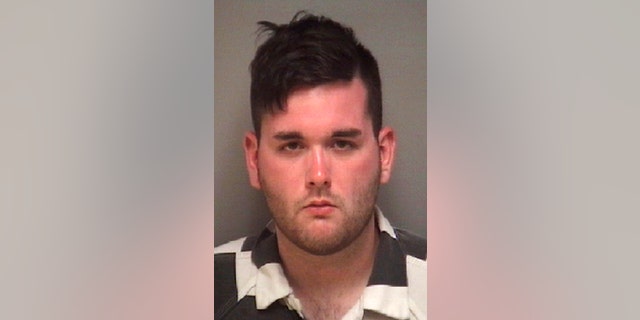 Fields fled the scene, but was apprehended a short time later. He's charged with one count of second degree murder, three counts of malicious wounding, and one count of hit and run.
The Department of Justice opened a civil rights probe as well, Trump announced Monday.
Attorney General Jeff Sessions said Monday the attack meets the definition of domestic terrorism, telling ABC's Good Morning America, "you can be sure we will charge and advance the most serious charges that can be brought. This is an evil attack, that cannot be accepted in America."
Witnesses say the people injured in the attack were counter-protesters demonstrating against white supremacists and fascists who had gathered in the area.
Martin and Blair said they were not part of any particular group, but were "concerned citizens" who wanted their voices heard.
"We weren't just going to let [white supremacists] walk freely around our city like they used to," Blair said. "We were marching peacefully. Nobody was terrorizing [anyone], destroying any property."
The couple marched with friends -- including one named Heather Heyer.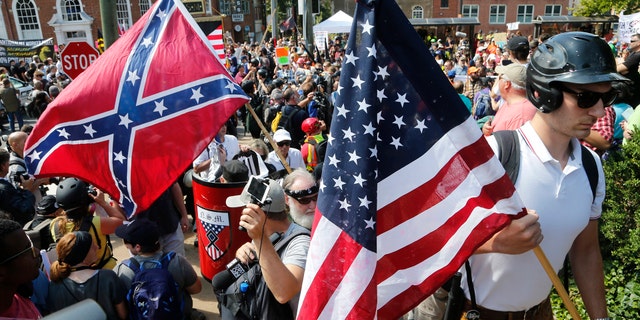 Heyer did not manage to avoid the cars. Officials say the 32 year old was transported to UVA Medical Center, but did not survive her injuries.
Blair met Heyer three years ago. The pair worked together as paralegals at a local law firm.
Blair said her friend and coworker enjoyed making people laugh and always "stood up for what she believed."
"She was a sweet, sweet soul - always spoke with conviction," Blair said. "[Heyer] believed in equality and she didn't want hate. She wanted everyone to get along, to be equal."
By Sunday, only nine of the 19 people who were injured in the attack remained at the hospital - all listed in "good" condition.
Martin said he is angry.
He said he believes what happened was avoidable and places a lot of the blame on the city he calls home.
"You approved it," Martin said. "You know what the federal judge did, said if you don't allow this to happen we're going to sue you. Sue me. We're not going to bring that type of crowd to our city. You could've done that but you didn't. You didn't want to press the issue and now somebody died because of your decision."
Martin and Blair plan to marry in 2018.
The City of Charlottesville did not immediately respond to a request for comment.