Veterans Day gender reveal for widow honors husband killed in plane crash
A widow of a veteran who was killed in a Mississippi plane crash this year honored her husband's memory on Veterans Day with an "epic" gender reveal party.
Cassie Lohrey, of Hampstead, N.C., lost her husband, Navy Corpsman 1st Class Ryan Lohrey, in June when his plane crashed in Mississippi while he was heading to training in Arizona, photographer Saralyn Johnson wrote on Facebook on Sunday. Lohrey discovered three weeks later that she was pregnant and expected to welcome a baby in March 2018.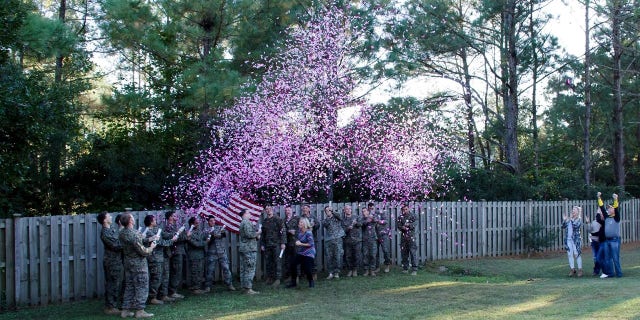 To honor her husband on Veterans Day, Lohrey held a gender reveal party by popping confetti. She initially asked family and friends to help with the announcement, but word soon got out about her special celebration. Sixteen servicemen contacted Lohrey and offered to help with the announcement.
The military men on Saturday pulled the poppers that filled the air with pink confetti, revealing the couple are expecting a girl. Johnson captured the sweet moment on video and photographs that were posted on Facebook.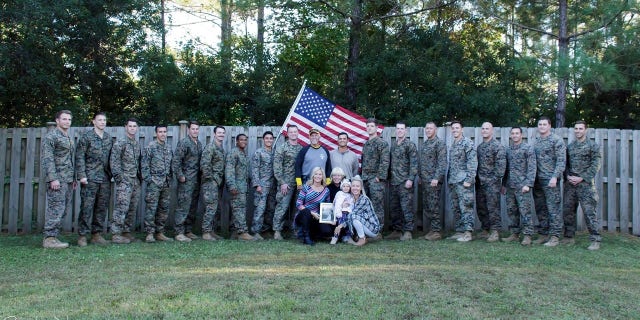 "What an epic gender reveal!" Johnson wrote. "It was very evident to me what a special man Ryan was and how many lives he had touched. Her home is filled with pictures of her and Ryan and I have no doubt that this sweet baby girl will know just how much her Daddy loves her, even from Heaven."
Lohrey's sister, Courtney Lambaria, set up a GoFundMe page for the growing family to help pay for bills.