Vermont man finally admits to spraying Border Patrol agent's car with manure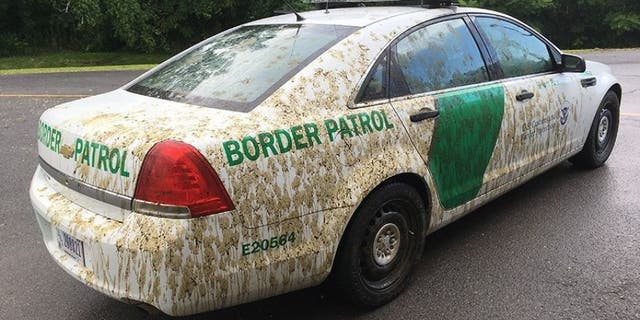 A Vermont man has finally admitted to hosing down a U.S. Customs and Border Protection officer's car with stinky manure last summer following an argument about illegal immigrants being allowed to work at local farms.
Mark Johnson, of Alburgh, who struck a plea deal Tuesday on charges of simple assault on a law enforcement officer with fluids and disorderly conduct, will be forced to do 24 hours of community service and write an apology to the officer, WCAX reported.
Johnson said last summer that his livelihood in agriculture has been nearly ruined by illegal immigrants working on local farms, and had been accused of spraying a border patrol vehicle with manure during an encounter on Aug. 3 at the edge of a farm field about two miles south of the Canadian border.
The 53-year-old man, who does custom manure spreading in northern Vermont, had told the Lake Champlain Islander, a weekly newspaper, he was unhappy with the lack of serious efforts by the immigration agency when it comes to illegal immigrants being allowed to work on local farms.
"The Border Patrol, the sheriffs, state police, game wardens can't go onto the farms," Johnson said.
Many Vermont farms rely on immigrant workers, some of whom are believed to be in the country illegally.
Johnson said he struggles to keep his business going and farmers with illegal immigrants are able to do better because they don't have to pay a proper wage.
"I have lost everything because of illegals," he said. "I'm not the only one that feels this. It is very, very sad."
Johnson told the Associated Press that he asked the Border Patrol agent why authorities were not doing more -- and he didn't like the answer.
"I used to go to all these farms, spread liquid manure and help them with chopping and everything else," he said. "Then the illegals started coming in, more and more and more, and every time I see the border patrol I stop and ask them, 'Can you please do something about it?'"
The Islander reported the border patrol agent said Johnson became very agitated and he figured he would get out of the way so Johnson could resume spreading manure on a field he was working at for the day.
The officer said in police documents he thinks Johnson tried to spray the cruiser twice, but missed the first time. The second time, the entire right side of the vehicle was covered with manure.
Johnson initially said he didn't know the car was near him when he fired up the manure spreader, but then came clean this week, WCAX reported.
The Associated Press contributed to this report.