Verdict coming for father charged in death of 1-year-old son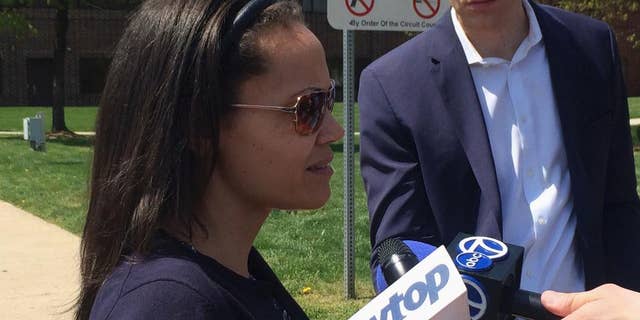 MANASSAS, Va. – Misfortune has befallen those close to Joaquin Shadow Rams. His ex-girlfriend was shot and killed in 2003. His mother died in 2008, her passing ruled a suicide. And his 1-year-old son, Prince McLeod Rams, died in his father's care on a court-ordered visitation.
"Either he's the most unlucky bastard on this planet, or he's a killer," Prince's mother, Hera McLeod, said in 2012. She fled the relationship with her one-time fiance about two weeks after Prince was born.
Prosecutors are not buying the bad luck theory and now believe Rams is responsible for all three deaths. On Thursday, a judge is expected to issue his verdict on whether Rams killed his son in an effort to collect more than $500,000 in life insurance he had taken out on the boy.
Rams, who has been jailed awaiting trial since 2013, has maintained his innocence. He says Prince died after suffering a fever-induced seizure during just the fourth visit without supervision that Rams had been permitted.
Prosecutors said Prince was either drowned or suffocated and that the kind of seizures Prince suffered are not fatal.
Rams is on trial only for the death of his son. Indeed, prosecutors were barred from presenting evidence about the death of his ex-girlfriend, Shawn Mason, and his mother, Alma Collins.
In all three deaths, life insurance was involved. Rams collected more than $150,000 in insurance on his mother's death, and prosecutors say he tried to collect on a policy connected to Mason's death.
Prosecutors suggested at trial that Rams hatched the plan to kill his son about the time he was running out of money from the payout on his mother's policy.
Rams took out three separate policies on his son, totaling more than $500,000. At trial, defense lawyers presented testimony from an insurance agent who said he persuaded Rams to take out the largest of the three policies as a way to save for his son's college education.
Defense lawyers also raised questions about whether Prince died of natural causes. The medical examiner who conducted the autopsy concluded that Prince drowned. But her boss at the time, Virginia chief medical examiner William Gormley, overturned the finding for the first time in his career and changed the cause of death to "undetermined." He said that although Prince's death was suspicious, he could not rule out the possibility that Prince died of natural causes.
Other medical experts testified that the fluid in Prince's lungs and intestines was not evidence of drowning but instead the remnants of the hour-long life-support effort to revive the boy, which included administering large amounts of fluids.
Medical experts for prosecutors said fever-induced seizures are common in boys Prince's age and are not fatal.
Judge Randy Bellows will decide Rams' guilt or innocence. The defense waived its right to a jury trial in exchange for prosecutors' agreement not to seek the death penalty.
If convicted, Rams will automatically be sentenced to life in prison.