Vandal etches signature near William Clark's at Mont. national monument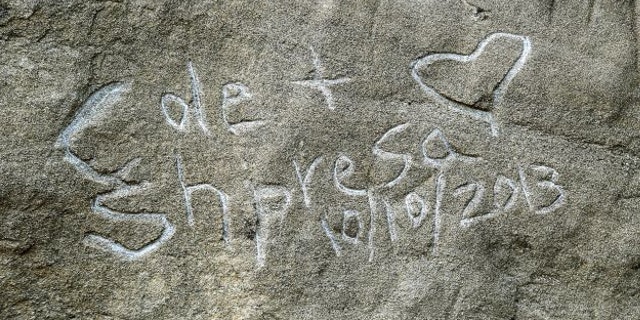 Federal officials have launched an investigation after a set of names were found carved into a national monument in Montana where explorer William Clark signed his moniker more than 200 years ago.
The new marking on Pompeys Pillar National Monument is about 3 feet from the signature of Clark, a member of the Corps of Discovery expedition that opened a land route to the West. It reads: "Cole + Shpresa 10/10/2013" and includes a heart.
Bureau of Land Management personnel noticed the carving on the sandstone formation during a walkthrough Oct. 17. Someone had to climb over a railing to make it.
Officials told KRTV.com that Cole Randall and Shpresa Lieshiaj, both of Minnesota, were questioned by park officials after a silent alarm was triggered. Authorities have not identified either Randall or Lieshiaj as suspects.
BLM of Montana/Dakotas spokeswoman Melodie Lloyd told The Billings Gazette the agency has apprehended a suspect. The investigation is ongoing, and no charges have been filed. Lloyd says defacing a national monument can result in felony charges.
Jonathan Peart, executive director of the Friends of Pompeys Pillar, told the newspaper that removing the marking will cost between $4,000 and $5,000 and require the hiring of a restoration specialist.
"This belongs to all of us. To you, to me to every American out there," Peart told KRTV.com. "And to deface this is just a senseless act of vandalism and violence to something that has historical and cultural importance."
Clark made his inscription July 25, 1806, on his return trip to St. Louis.
The Associated Press contributed to this report.
Click here for more from KRTV.com.