VA Candidates Cover a Wide Spectrum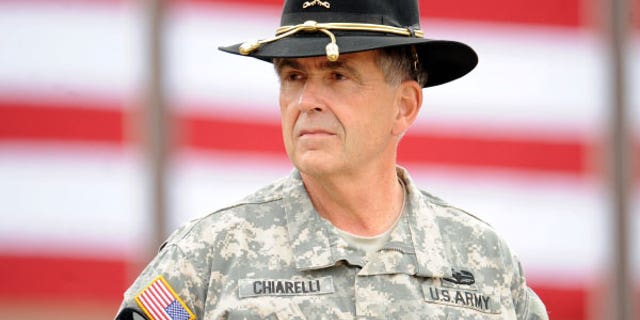 The White House is still not saying whether it has offered the job of running the Department of Veterans Affairs to Dr. Delos M. Cosgrove, a Vietnam veteran who currently runs the Cleveland Clinic and is considered the front-runner for the job.
In the meantime, veterans' advocates and other analysts have offered up names of military officers or veterans-turned-politicians to take over for former Veterans Affairs Secretary Eric Shinseki, who resigned May 30.
Those potential nominees included Gen. Ray Odierno who is coming to the end of his tenure as Army chief of staff. Others mentioned recent retirees such as Gen. Stanley McChrystal, who commanded U.S. forces in Afghanistan, and Gen. Peter Chiarelli, former Army Vice Chief of Staff.
Others suggested politicians with military backgrounds like former Sen. Bob Kerrey, a Medal of Honor recipient from the Vietnam War; former Rep. Patrick Murphy, the first Iraq War veteran to serve in Congress; and current Rep. Tammy Duckworth, D-Ill., an assistant secretary at VA before being elected to Congress in 2012.
What is immediately clear from the names suggested is that many see military and government experience as a significant requirement to lead the VA.
"I suggested somebody like Stan McChrystal," said Lawrence Korb, a former assistant secretary of defense under Ronald Reagan. "[McChrystal's] got the stature -- he's a dynamic guy, a real hands-on leader. He's also got the public persona to get out there and convince people to provide him the resources he needs and also put the fear of God into the people working for him."
Korb, now a fellow at the Center for American Progress, also believes Chiarelli would be a good pick to succeed Shinseki.
"He would be excellent," Korb said. Since leaving the Army, Chiarelli has been named chief executive officer of One Mind for Research, a non-profit organization involved in developing treatment and cures for brain injuries.
President Obama named former VA Deputy Secretary Sloan Gibson as acting secretary but promised to nominate a permanent replacement to Shinseki soon.
Shinseki resigned after two VA reports confirmed allegations that the VA Medical Center staff in Phoenix, Arizona, manipulated patient wait times. Whistleblowers told CNN up to 40 veterans may have died waiting for a doctor's appointment.
The VA has not found evidence of those 40 deaths, but it has found "systemic" gaming of appointment times across the country.
Officials with veterans' organizations are reluctant to identify anyone by name when asked who should succeed Shinseki because of fears that recommending anyone might call into question their non-partisanship.
However, one of the first lists to surface came from Concerned Veterans for America, a conservative-leaning veterans group whose lineup included both Republicans and Democrats:
•Retired Adm. Mike Mullen, former chairman of the Joint Chiefs of Staff
•Retired Gen. James Mattis, former head of U.S. Central Command
•Paul Rieckhoff, founder of Iraq and Afghanistan Veterans of America
•Tommy Sowers, an Iraq War vet who was an assistant secretary for public affairs at VA
•Rep. Tulsi Gabbard, D-Hawaii, who twice deployed to Iraq as a soldier
•Holly Petraeus, head of the Servicemembers' Affairs Office within the Consumer Financial Protection Bureau and wife of retired Army Gen. David Petraeus.
Rieckhoff has made no secret of wanting to see a VA secretary from the Post 9/11 generation. He said that when Obama nominated Shinseki and he said it again on Monday during a press conference in Washington to pitch IAVA's recommendations for fixing the department.
Rieckhoff is not the only one who believes the problems at VA can best be fixed from someone from among the 2.8 million member pool of Post 9/11 veterans.
Time magazine writer Joe Klein, who called for Shinseki's resignation a year ago, said he realized watching a young Army captain in Afghanistan negotiate with a local for use of his house that the officer had what it takes to run the VA.
"This generation of military veterans have been trained in the political skills that Eric Shinseki's generation forgot after Vietnam. They have been trained in how to unlock stuck bureaucracies, how to talk to average folks, how to make moral decisions based on incomplete information under fire," Klein wrote. "[Obama] should take a risk, inject some energy into his flagging Administration, and appoint one of them" to head the VA.
But others say it's not that simple.
"The young soldiers in Iraq and Afghanistan did not have to deal with the Congress or the Civil Service system or a free press and 24-hour news cycle," Korb said.
Joseph Anton, a health policy analyst with the American Enterprise Institute, said a good leader would make sure the right people are in place and do not need to be the ones with the technical or negotiating skills.
He said a strong military or Washington background is probably important for establishing credibility with Congress, but it is not entirely clear to him that the credibility carries over with the customers.
Dr. James Gilman, a retired Army major general who has been heading the Military and Veterans Health Institute at Johns Hopkins Medicine for the past year, said it "takes more than just one really, really great senior leader to run the Department [of Veterans Affairs]."
He explained that the next VA head must place strong leaders in the Veterans Health Administration, the Veterans Benefits Administration and the VA's National Cemetery Administration to be successful.
"I don't believe the person who oversees it all can do very much if they don't have very, very good people in all three of those divisions," he said. "Every one of those big divisions ... is an extremely emotional issue and because of the emotion … you don't really get a chance to make a lot of mistakes before they get highlighted."
Gilman said the next head of the VA must also place strong leaders as the heads of all the Veterans Integrated Service Networks -- the 23 regional systems across the country -- and on down to the hospitals.
The problems confirmed with waiting lists and leaders manipulating VA system proves the VA needs a significant culture change, he said.
"And it usually takes more than one good leader at the top. And not at the same time, but several of them, and sequential leaders," Gilman said.
He compared what the VA is now going through now to what the Defense Department faced in 2007 when the public learned about conditions at Walter Reed Army Hospital.
"One of the lessons we had to learn was we're not supposed to 'get by' with what we had, but we had to ask for with what we needed to do the job," Gilman said. "With the long waiting lists [at VA] you have to ask for the money to send them out to hospitals or get more resources in the VA."
VA leaders have to ensure the department is a place where "full disclosure is not only expected but it's the only thing that will be accepted," he said.
-- Bryant Jordan can be reached at bryant.jordan@monster.com.