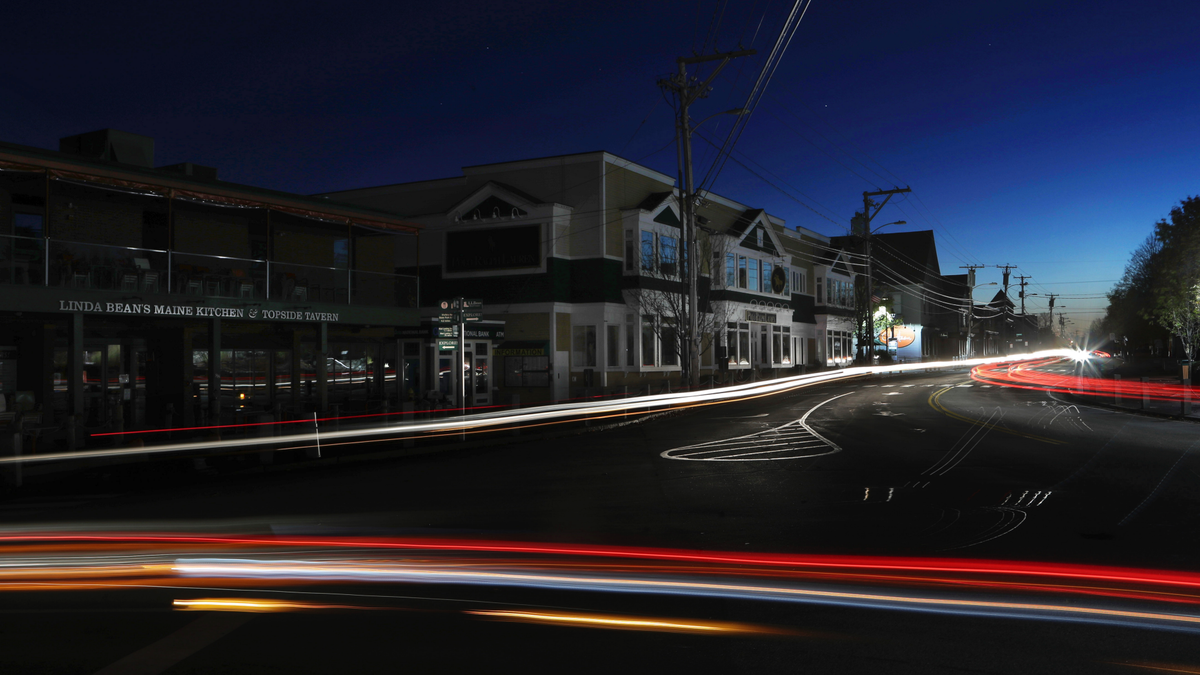 HARTFORD, Conn. – A storm packing hurricane-force wind gusts and soaking rain brought trees and power lines crashing down early Monday, knocking out power for nearly 1.5 million homes and businesses and forcing hundreds of schools to close in New England.
Thousands of trees were toppled, some falling onto houses and cars. In New Hampshire, floodwaters swept away a house. In Maine, the state's largest utility warned residents to be prepared to be without electricity for up to a week.
New England bore the brunt of the storm, which brought sustained winds of up to 50 mph in spots. A gust of 130 mph was reported at the Mount Washington Observatory in New Hampshire, while winds hit 82 mph in Mashpee on Cape Cod in Massachusetts.
"It was really terrifying," said Rachel Graham, who described pine trees crashing nearby as she rode out the storm with her husband and their 2-year-old daughter in a yurt in Freeport, Maine. "It was a lot of crashes and bangs."
Miraculously, no serious injuries were reported.
The storm left 450,000 New Hampshire electricity customers without power at its peak and produced wind gusts of 78 mph, officials said. Emergency Management Director Perry Plummer said the outage was the state's fourth largest.
In Warren, choppy waters swept away a one-story home. Video showed it floating downstream and crashing into a bridge before breaking apart. The person who took the video, Thomas Babbit, told The Boston Globe the homeowners were not on the property at the time.
Maine also was hit hard, with 492,000 homes and businesses losing electricity, surpassing the peak number from an infamous 1998 ice storm.
Republican Maine Gov. Paul LePage issued a state of emergency proclamation, allowing drivers of electrical line repair vehicles to work more hours than federal law allows to speed up power restoration.
Across New England, some cities and towns pushed back trick-or-treating from Halloween night — Tuesday — to as late as Sunday evening due to safety concerns.
The fast-moving storm began making its way up the East Coast on Sunday, the fifth anniversary of Superstorm Sandy. That 2012 storm devastated the nation's most populous areas and was blamed for at least 182 deaths in the U.S. and the Caribbean and more than $71 billion in damage in this country alone.
Electricity was slowly being restored.
More than 1 million homes and businesses still were without power Monday evening in the Northeast, according to a tally of outages from utility companies in more than a half-dozen states.
In the Boston suburb of Brookline, Helene Dunlap said her power went out after she heard a loud "kaboom" around 1:30 a.m. Monday. She went outside hours later to find a large tree had fallen on a neighboring home.
"It really shook the whole place up," she said. "It was such a dark, stormy night that looking out the window we really couldn't determine what was going on."
A tree fell and sheared off the rear of a home in Methuen in northeastern Massachusetts, along the New Hampshire line. The tree crashed into Philip Cole's bedroom, where he would have been if he hadn't been called into work Sunday night.
"You opened the door to my bedroom, and there's no bedroom," Cole told WBZ-TV. "There's no floor, there's no anything really, just a closet and that was it."
In Glastonbury, Connecticut, downed trees and wires forced schools to close.
"Just high, high, high winds," said Glastonbury resident Kathleen Buccheri, who lost power. "I saw flashes of light and heard booms. I think it was the transformers."
She said she stocked up on food and other supplies when she heard the storm was coming.
Some rivers in northern New Hampshire overflowed. For a brief period Monday, the Ammonoosuc River flooded, restricting access to the Omni Mount Washington Resort in Bretton Woods.
The storm system also caused problems Sunday in Pennsylvania, New Jersey and New York. On the shoreline in Bayonne, New Jersey, a barge washed up after apparently breaking free from its moorings.
In New York, the rush hour got off to a rocky start as service on Metro-North's Danbury Branch in Connecticut was suspended due to a mudslide and signal power problems. Part of the Long Island Rail Road's Ronkonkoma Branch was halted because of power lines on the tracks. Unhappy commuters crowded a station.
___
Associated Press writers Mark Pratt and Alanna Durkin Richer in Boston; Kathy McCormack in Concord, New Hampshire; Patrick Whittle and David Sharp in Portland, Maine; Lisa Rathke in Montpelier, Vermont; and Shawn Marsh in Trenton, New Jersey, contributed to this report.
___
This story has been corrected to show 1.2 million homes and businesses, not people, were without power as of late Monday afternoon.