Utah Wildfire Sparked at Firing Range Decreases in Size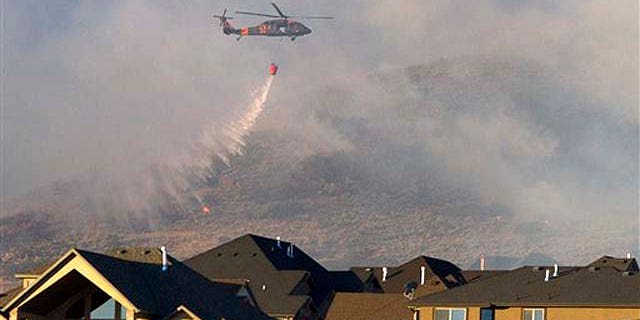 A wind-stoked wildfire sparked at a firing range during a National Guard training session blazed across thousands of acres Monday as crews rushed to keep it from burning more than four homes that were destroyed overnight.
The fire moved back on itself Monday as the Utah National Guard acknowledged it wasn't the first time that live-fire exercises had sparked a fire at Camp Williams, a sprawling compound 30 miles south of Salt Lake City.
Overnight conditions helped firefighters get a handle on the blaze by Monday morning and keep it from spreading, but authorities were trying to keep the evacuated area clear of people as a precaution.
"If we get a change of winds, a pickup in winds, it's game-on again," Salt Lake County Sheriff Jim Winder said. "Right now we're in a fairly static situation but it could turn on us again."
Residents and Salt Lake County Mayor Peter Corroon were questioning the National Guard's decision to fire weapons in dry and windy conditions Sunday, but Lt. Col. Hank McIntire said wind wasn't a factor until after the fire took hold.
"There's always the possibility that some ammunition will catch brush on fire. We felt like we had it extinguished yesterday, then some embers reignited in the wind and it got away from us," McIntire told The Associated Press on Monday. "That's when the wind picked up and got it going again, and it rolled through Camp Williams."
By early Monday, 1,652 homes had been evacuated, said fire information officer Jason Curry. Four houses were lost, said Steve Sautter, manager of Salt Lake County's joint information center. Many others were threatened until winds shifted overnight.
U.S. Forest Service spokeswoman Kim Osborn said authorities got a better estimate on the damage by Monday afternoon and reduced it from 10,000 acres to about 3,500, or less than 6 square miles.
Five tanker planes were in the air, dropping suppressant and trying to get as much of the fire under control before Tuesday, when winds were expected to increase, she said.
"We're doing all that we can to keep everybody safe," Osborn said. "It's looking good now."
Winder said he didn't expect any more evacuations as firefighters continued to get the fire under control Monday.
All four homeowners whose property was destroyed had been notified, he said.
"If you haven't been told that your house has burned down, your house hasn't burned down," Winder said. "What we're doing our best to do here is to ensure that not only no other houses get burned and that nobody gets hurt. And then if the wind does change, we've already got people out. We don't want a ton of people back in this evacuated area."
Herriman is rural community on the southwest side of the Salt Lake Valley. It's flanked to the south and west by mountains. North and west are the valley's suburban communities, with a combined population of about a million.
McIntire told the AP that dry brush had caught fire during artillery training on a machine gun range, and soldiers did not have the manpower or equipment to stop it from rapidly spreading.
"It was kind of a perfect storm scenario where once the fire started on the firing range at the National Guard base, the wind really kicked up," said Lt. Don Hutson of the Unified Police Dept., the agency that oversees Salt Lake County. "Literally, the fire was coming down into the backyards of many of these residents."
All that remained at one of the destroyed log homes was a burned out chimney standing near an empty animal pen where the owners, desperate to flee in approaching fire, set two horses and a sheep free and hoped the animals could get themselves out of danger.
The fire had caused no major injuries, officials said, although two police officers were treated for smoke inhalation and a third for minor injuries after being hit by the vehicle of a driver trying to return home, the Deseret News reported.
Winds racing through the area at 40 to 50 miles per hour pushed the fire over a mountain ridge and into the Salt Lake Valley, Hutson said.
"It was lifesaving efforts trying to get people out of the area because of a very, very fast-moving fire -- literally moving faster than anybody could run," he said.
To help battle fire, the Guard enlisted 124 troops and three Blackhawk helicopters, officials said. Corroon issued an emergency declaration at 11:30 p.m., and the Federal Emergency Management said it would pay 75 percent of the state's firefighting costs.
Several hours after the fire sparked, crews with the Unified Fire Authority crews were enlisted to help battle the blaze. The first round of mandatory evacuations, which included 262 homes, was ordered at 7 p.m., Taylor said.