Utah officer struck by stolen car, killed, is remembered as a loyal cop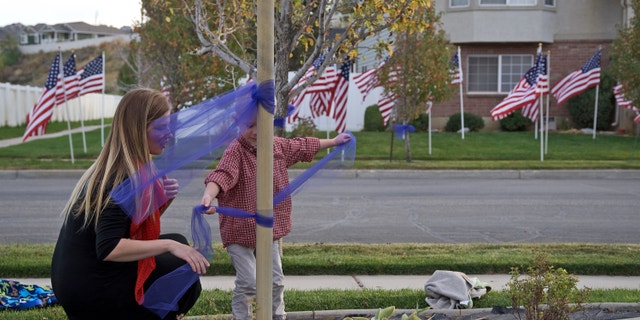 A young police officer who was fatally struck by a stolen car carrying three teens was remembered Monday as a loyal, funny man who grew up wanting to be a cop.
Cody Brotherson, 25, had been an officer in his hometown of West Valley City for almost three years when he was killed Nov. 6 while trying to help stop the stolen vehicle.
UTAH OFFICER STRUCK, KILLED DURING CHASE WAS LIVING HIS DREAM, FAMILY SAYS
Members of the public and police from around Utah packed Maverick Center for Brotherson's funeral, saluting the fallen officer's flag-draped casket as it arrived at the arena in West Valley City.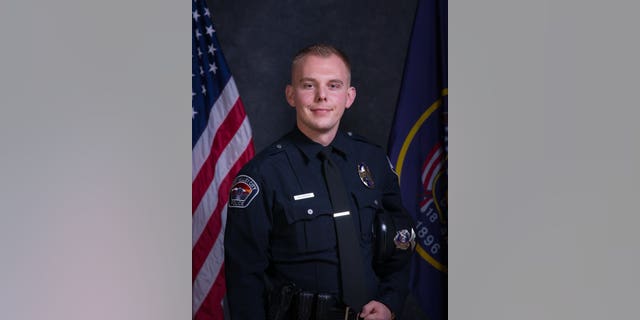 Police Chief Lee Russo read aloud from an essay Brotherson was required to write as part of his application to the department. Brotherson said he was a lifelong West Valley City resident and wanted to work for the department because of his "personal connection and love for the city."
IOWA WOMAN DRAWS BACKLASH AFTER TAUNTING POLICE OFFICERS WEARING BLACK BANDS
Russo said Brotherson "stood strong" in his last moments and had been fearless as he tried to protect the community.
Brotherson was killed in the pre-dawn darkness outside his police car while laying down tire-puncturing spike strips to stop the stolen car.
Police say they're still investigating whether Brotherson was intentionally struck by the car. Police say all three teens inside were too young to drive.
Officers are also investigating exactly what Brotherson was doing when he was struck. He had removed the spikes from his car and moved some distance away from the vehicle when he was hit.
The teens, a 14-year-old and two 15-year-old males, were being held at a juvenile detention facility. Police have not released their identities or said what charges they might face.
Brotherson is survived by his parents, two brothers and a fiancee. He joined the police department in December 2013 and was the city's first officer to die in the line of duty since the department was formed in 1980.
His mother Jenny Brotherson remembered her son on Monday as "loyal to his core," and his brother Braydon Brotherson thanked his fallen sibling for being a role model, The Salt Lake Tribune reported.
"Thank you for laying in the snow in your underwear to make me laugh -- even if it was to get me to stop crying before Mom came home," he said.
Cody Brotherson's fiancee, Jessica Le, remembered him as an "incredible man" who was honest, loyal and goofy.
His uncle Darren Richards said at a viewing over the weekend that Brotherson knew when he was 5-years-old that he wanted to be police officer. He would carry around toy handcuffs and arrest family members.
Brotherson is the second officer to die on the job in Utah this year.
Doug Barney, an officer with Salt Lake County's Unified Police Department, was shot and killed in January by a parolee while investigating a traffic accident. The parolee was killed in a shootout with authorities.
Brotherson was to be interred at a West Valley City cemetery.