Utah dog owner facing charges after her husky goes on 'killing spree'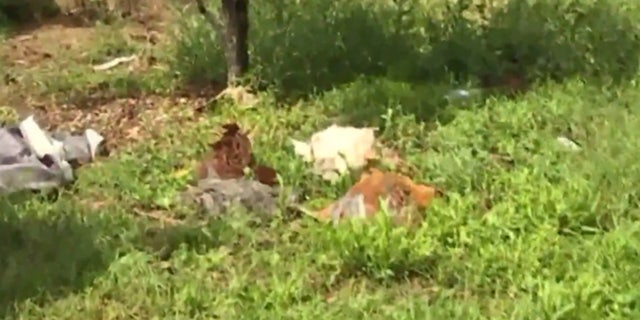 NEWYou can now listen to Fox News articles!
A Utah dog owner is facing nearly 30 misdemeanor charges after her 4-year-old husky was caught on video carrying out an animal killing spree in one of her neighbor's yards.
Surveillance footage taken by Tooele homeowner Trip Kiss – who with his wife runs a petting zoo for children with disabilities – shows Mackenzie Morton's dog, Nikita, running amok in the early morning hours of Memorial Day.
"He was chewing our goose that was at the back end there, he dug out the rabbits in their enclosure," Kiss told Fox 13, noting that the animal had managed to kill "two rabbits, two ducks, five chickens, a turkey, [and] a goose" before leaving the property.
Kiss said at one point he spotted the dog – who scattered the dead animals in a two-block radius around his home – with one of his chickens in its jaws.
"The dog continued to chew on it, and it died in the dog's mouth, and he dropped it," Kiss said.
Police managed to capture the dog hours later. Tooele Police Sgt. Jeremy Hansen told Fox 13 that "a second lady from a couple houses down came and told the officers that 15 of her chickens had also been killed by the same animal."
Morton said the dog had vanished from her boyfriend's home nearby, late at night, and that it was dark outside. She told the station that she found a few dead chickens in a neighbor's yard but no signs of Nikita, and ended up leaving her door cracked open, hoping for the husky to eventually return.
"I didn't think she was going to go on a killing spree," Morton said. "I did not know that, at all."
Morton apologized and claimed the dog has never acted like that before. She intends to pay around $1,350 in damages.
But Kiss said he still feels "anger toward the owner, because she could have prevented this."
Morton was charged with a single misdemeanor count of animal running at large and 27 misdemeanor counts for every animal the dog attacked. She could face additional charges.
Nikita, meanwhile, is quarantined at a local animal shelter. An upcoming administrative hearing between police officials and Morton will decide the dog's fate, Fox 13 reported.