USA Gymnastics board members resign amid Nassar sexual assault scandal
USA Gymnastics announced Monday that its board of directors resigned to "move forward in implementing change within our organization."
The move comes as the sex abuse scandal involving former sports doctor Larry Nassar continues to grow. At his sentencing hearing, at least 80 victims have testified that he sexually assaulted them and more continue coming forward.
The organization said its executive leadership – Chairman Paul Parilla, Vice Chairman Jay Binder & Treasurer Bitsy Kelley – resigned, effective Sunday. The board of directors will choose "an interim chairperson" until a permanent selection is named, the organization said.
"We support their decisions to resign at this time. We believe this step will allow us to more effectively move forward in implementing change within our organization," Kerry Perry, president and CEO of USA Gymnastics said in a statement.
Perry said the organization remains focused on "working every day to ensure that our culture, policies and actions reflect our commitment to those we serve."
The board positions are volunteer and unpaid, but the resignations add to the months of turmoil. Steve Penny quit as president last March after critics said USA Gymnastics failed to protect gymnasts from abusive coaches and Nassar.
The group last week said it was ending its long relationship with the Karolyi Ranch, the Huntsville, Texas, home of former national team coordinator Martha Karolyi and her husband, Bela. Some Olympians said they were assaulted there by Nassar.
The resignations come as more young women and girls who said they were assaulted by the Michigan sports doctor appeared for a fifth day to make victim statements before he is sentenced. Roughly 100 victims are expected to make statements or have them read in court during the marathon sentencing hearing that resumed Monday in Lansing, Michigan.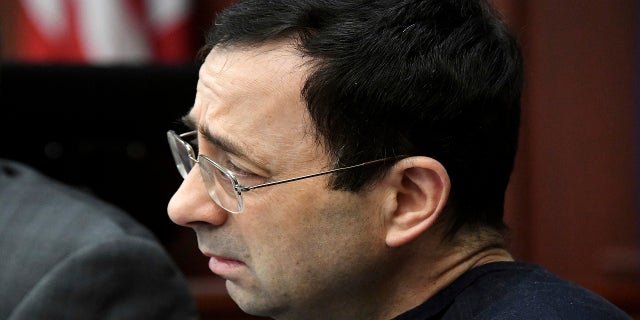 Nassar sat in the witness chair last week as more than 80 women and girls described the impact of being assaulted by him. Nassar has admitted molesting athletes during treatment when he was employed by Michigan State University and USA Gymnastics, which trains Olympians.
Nassar has already been sentenced to 60 years in prison for child pornography crimes. He faces a minimum prison sentence of 25 to 40 years in the molestation case.
The Associated Press contributed to this report.