US troops killed in Niger identified as decorated Green Berets

The three U.S. Army Green Berets killed in Niger earlier this week were identified Friday as decorated soldiers based out of Fort Bragg.
The Army identified the men as Staff Sgt. Bryan Black, 35, a Special Forces medical sergeant, Staff Sgt. Jeremiah Johnson, 39, a chemical, biological, radiological and nuclear specialist, and Staff Sgt. Dustin Wright, 29, an engineer. All three were assigned to the 3rd Special Forces Group (Airborne).
Black, from Pallyup, Wash., enlisted in the Army in 2009 and has received numerous awards, including the Army Good Conduct Medal and the Global War on Terrorism Service Medal, a statement said.
Johnson, from Springboro, Ohio, joined in 2007 and has earned the Army Commendation Medal and Army Achievement Medal, among other distinctions. Wright, from Lyons, Ga., enlisted in 2012 and also has won numerous awards, such as the Joint Service Achievement Medal and Special Forces Tab.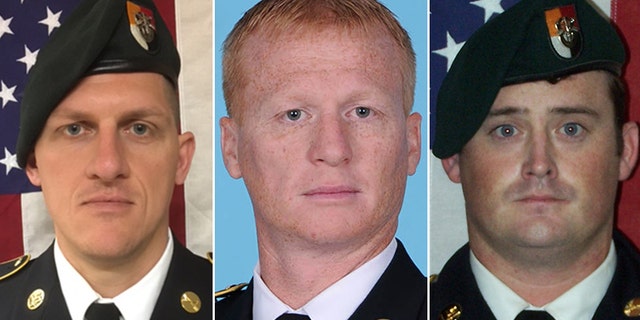 Multiple officials familiar with the matter told Fox News on Thursday that there was no U.S. surveillance drone overhead at the time of the ambush.
Fox News learned the dead and injured soldiers were taken from the firefight by French Puma helicopters. Only one U.S. helicopter was available to pick up the Green Berets. It is not clear why it wasn't used.
A senior Marine Corps general declined to comment on the lack of air cover at a Pentagon news conference Thursday.
"We are not prepared to go into details right now," said Lt. Gen. Kenneth F. McKenzie Jr., director of the Joint Chiefs of Staff.
The Pentagon has built two drone bases inside Niger, but the local government doesn't allow armed drone flights to protect U.S. troops, despite repeated requests from the U.S. military.
Ten Green Berets were part of a routine joint patrol accompanying Nigerien forces when they were attacked 120 miles north of the West African country's capital, Niamey, near the border with Mali.
Two wounded Special Forces soldiers were flown to a military hospital in Germany where they are expected to recover.
The terror group Al Qaeda in the Islamic Mahgreb, or AQIM, is suspected of carrying out the deadly attack. The U.S. military has been training local forces to fight AQIM and other militants in West Africa for over a decade.
U.S. officials tell Fox News that ISIS fighters are finding a safe haven in West Africa as they are squeezed out of Syria and Iraq.
"It is inevitable that people will try to go to what people call the coldest corner of the room. They tried to go to Libya, it didn't work out real well," McKenzie said Thursday.
There are up to 6,000 U.S. troops on the African continent, 800 of whom are now on the ground in Niger. Most of those forces are stationed at the drone bases.
The State Department has warned of repeated cross-border attacks and kidnappings by AQIM fighters based in Mali, despite the best efforts of the French military, which has battled the terrorist group for years.
AQIM terrorists were also behind the deadly 2013 attack on a large gas plant in Algeria, where they took hundreds of hostages, including seven Americans, three of whom were killed.
Months later, the U.S. military agreed to bring drones to Niger to gather more intelligence on the terror group.
Fox News' Lucas Tomlinson contributed to this report.