US Navy training jets will be modified as it determines oxygen problem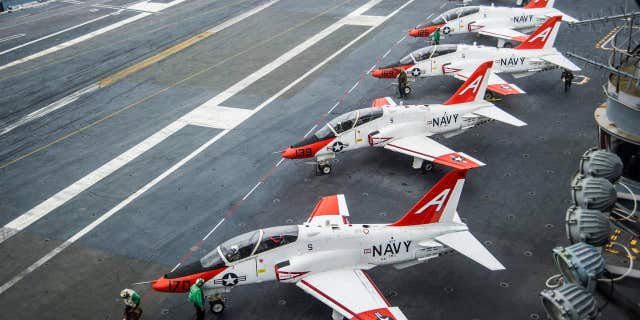 The U.S. Navy will allow nearly 200 T-45C aircraft to resume flights Monday under modified conditions while it determines what is causing a lack of oxygen in some cockpits.
Vice Adm. Mike Shoemaker said Saturday instructor pilots will conduct warm-up flights and then will report back to the remaining pilots and students in their squadrons about the use of the modified equipment. All instructor pilots will complete warmup flights and student pilots will conduct training flights as the week goes on.
Navy officials grounded all 197 training jets indefinitely, following an exclusive Fox News report that pilots were refusing to fly the T-45 training jet because they say there is poison in the oxygen system.
Fox News interviewed multiple Navy flight instructors who say incidents of oxygen poisoning in the 30-year old T-45 Goshawk have "skyrocketed."
Instructors and students will now wear modified masks in the two-seat trainers. They will also fly below 10,000 feet to avoid use of on-board oxygen generating systems.
The planes train future Navy and Marine fighter pilots. Shoemaker said students will be able to complete 75 percent of their training flights as teams of experts, including people from NASA, "identify the root cause of the problem."
Two T-45s are now at Naval Air Station Patuxent River in Maryland where the teams are taking them apart to figure out what's gone wrong.
"This will remain our top safety priority until we fully understand all causal factors and have identified a solution that will further reduce the risks to our aircrew," Shoemaker said.
The Navy operates the training planes at three naval air stations in the Southern U.S. They are NAS Meridian in Mississippi, NAS Kingsville in Texas and NAS Pensacola in Florida.
In the last five years, physiological episodes, caused in part by problems with the oxygen system, nearly have quadrupled on the T-45 training jet, according to Capitol Hill testimony by senior naval aviators.
Symptoms of low oxygen can range from tingling fingers to cloudy judgment and even passing out, although Navy officials said conditions in the trainer jets haven't been very severe.
Fox News' Lucas Tomlinson and the Associated Press contributed to this report.