US drone strike on ISIS camp in Libya kills 17 militants, military says
American forces on Friday conducted six precision airstrikes in Libya against an ISIS camp, killing 17 militants and destroying three vehicles, the military said in a statement.
The camp, located about 150 miles southeast of Sirte, was used by ISIS to move fighters in and out of the country; stockpile weapons and equipment; and to plot and conduct attacks.
ISIS and Al Qaeda have taken advantage of ungoverned spaces in Libya to establish sanctuaries for plotting, inspiring and directing terror attacks; recruiting and facilitating the movement of foreign terrorist fighters; and raising and moving funds to support their operations.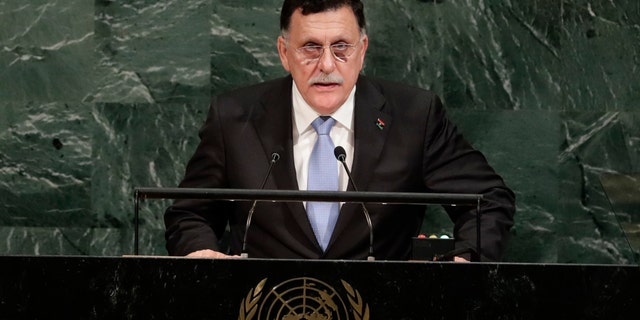 A U.S. official estimated to Fox News that there are "hundreds" of ISIS fighters in Libya.
"Strikes like these will keep the numbers down," the official told Fox News, noting that there were US warships available to strike the camp with Tomahawk cruises missiles but drones were considered the best course of action.
The terrorists have sought safe haven and freedom of movement in Libya to launch external terror attacks in neighboring countries, and their operatives in Libya also have been connected to multiple attacks across Europe.
While Libya has made considerable progress against ISIS, the terrorists have tried to take advantage of political instability there to create safe havens in parts of the country, the statement said.
ISIS, SQUEEZED OUT OF IRAQ AND SYRIA, NOW 'REGROUPING' IN LIBYA, ANALYST SAYS
"The United States will track and hunt these terrorists, degrade their capabilities and disrupt their planning and operations by all appropriate, lawful and proportional means, including precision strikes against their forces, terror training camps and lines of communication, as well as partnering with Libyan forces to deny safe havens for terrorists in Libya," said the U.S. military.
America remains "committed to maintaining pressure on the terror network and preventing them from establishing safe haven."
The US military conducted 495 airstrikes in Libya from August through mid-December in 2016, mostly using drones against ISIS in the coastal city of Surt located halfway between Tripoli and Benghazi.
One day before leaving office, then President Obama ordered a round-the-world airstrike from a pair of B-2 stealth bombers that flew  from Missouri to Libya striking two ISIS camps and killing about 80 ISIS fighters.
The American bombers refueled 15 times in the air before and returning to their base in Missouri, the Air Force said.
Officials said the conventional bombing mission was also meant to send the world a message about the ability of the U.S. military to fly nuclear-capable bombers around the world without stopping in a real life "show of force."