Upstate N.Y. Home Explodes, at Least 3 Dead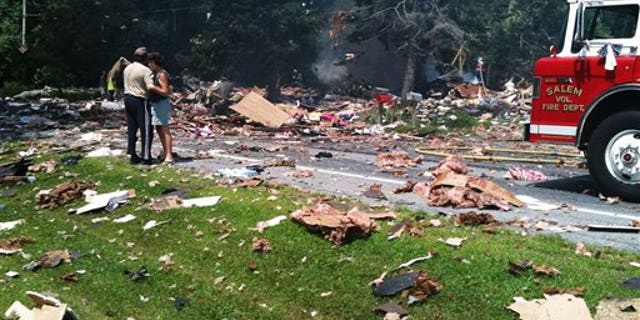 NEWYou can now listen to Fox News articles!
SALEM, N.Y. – An explosion leveled a two-family home in rural upstate New York Wednesday afternoon, blowing debris hundreds of feet and killing three people, authorities and witnesses said.
The blast shook tiny Salem, about 40 miles northeast of the state capital of Albany. State police told the Glens Falls Post-Star that three people were killed.
Josh Nelson of Salem said he was several miles away and heard the blast.
"It sounded like a hundred sticks of dynamite going off," Nelson said.
The blast shook a restaurant a half-mile away, restaurant employee Diane Keys told the newspaper.
Neighbor Joseph Brandmeyer ran to the home after hearing the explosion to find pieces of furniture, board and other debris scattered around the yard and road and in trees. He said he saw at least three bodies under tarps.
Brandmeyer said he was helping a woman out of the rubble when he saw spotted her limp baby under a board.
"I started to talk to her and she started to breathe," Brandmeyer said of the baby. "Pray to God she's OK."
It wasn't clear what caused the blast. Brandmeyer overheard one survivor, the man who rented the home, saying he had called his landlord about a propane leak earlier in the day.
State Police Maj. William Sprague said he had no information from the scene, and a dispatcher for the Washington County Sheriff's office couldn't immediately provide more details.
Nelson, a construction worker, said he was familiar with the large two-story home. He said debris including two-by-six boards and children's schoolwork was blown into a cornfield across the road.
A small garage was still standing and several vehicles were damaged.
Salem, a rural town known for its scenic covered bridges, museums, handsome period homes and historic landmarks from Revolutionary War days, is on the Vermont border southeast of Lake George. The house was on a rural road of widely spaced homes separated by farmland.