Uproar over photo showing Chicago cops posing with black man wearing deer antlers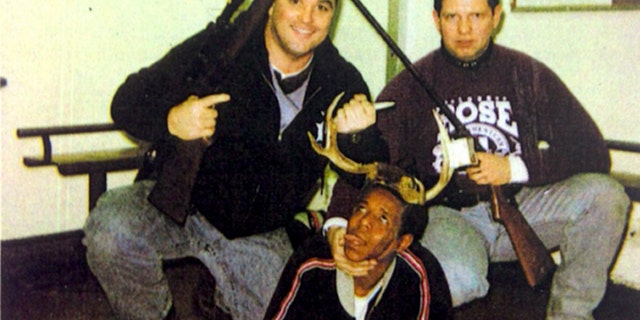 A photograph of two white Chicago police officers standing over a black man wearing deer antlers has caused an uproar in the city as one of the two officers has sued to get his old job back.
The photo, which was published by the Chicago Sun-Times Wednesday, is believed to have been taken sometime between 1999 and 2003. The officers have been identified as Timothy McDermott, who was fired this past October, and Jerome Finnigan, who is serving a 12-year prison sentence for corruption. The identity of the black man is not known, but the Sun-Times, citing the Chicago Police Department, reported that he was a drug suspect.
The Sun-Times reported that the photo was discovered by the FBI during an investigation into police wrongdoing and was given to the city in 2013. The Chicago Police Board fired McDermott by a 5-4 vote last year, with the majority opinion stating "appearing to treat an African-American man not as a human being but as a hunted animal is disgraceful and shocks the conscience."
Attorneys for both McDermott and the police department asked a Cook County judge to keep the photo sealed, saying they wanted to protect the black man's privacy. Judge Thomas Allen denied their request in a ruling issued this past March. The Sun-Times said it obtained a copy of the photo through court files.
McDermott's lawyer, Dan Herbert, told the Associated Press Wednesday the photograph doesn't tell the entire story. He added there's no evidence the black man was in custody and questioned whether the photo was taken against the man's will.
Chicago Mayor Rahm Emanuel opposes returning McDermott to his job, saying Wednesday the photo doesn't reflect the department's values.
"As far as I'm concerned, to that officer: Good riddance. You don't belong in the Police Department," Emanuel said. "Our whole idea of the Police Department (is that it) is there to serve and protect, and the values expressed in that photo are not the values of the people of the city of Chicago."
The Sun-Times reported that McDermott told the Police Department's internal affairs division in 2013 that participating in the photo was a mistake.
"I was asked to join the photo and I did so without exercising proper judgment," he was quoted as saying in a transcript. "I made a mistake as a young impressionable police officer who was trying to fit in."
Finnegan, the other officer in the photo, was convicted in 2011 of leading a crew of rogue cops in robberies, home invasions and other crimes.
The Associated Press contributed to this report.