University of Utah suspends swim coach over sex abuse allegations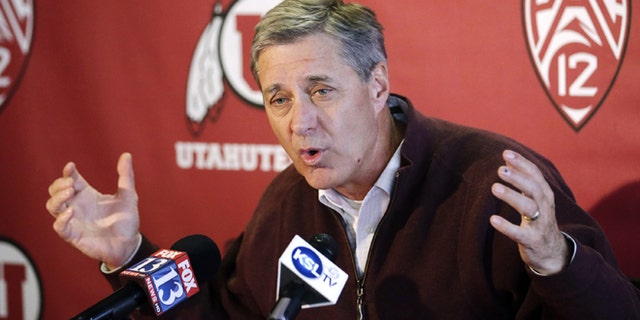 SALT LAKE CITY – University of Utah swim coach Greg Winslow has been suspended because of allegations that he sexually abused an teenage girl he coached in Arizona six years ago.
Utah athletic director Chris Hill announced the suspension Thursday of Winslow, who was in his sixth season as the Utes' swim coach. Though no charges have been filed, Hill said he believes the allegations are serious enough to warrant the suspension pending further investigation. Hill said his department first learned of the accusations Wednesday night.
"With these types of things, you take everything seriously," Hill said. "At the same time, there is a balance between reacting appropriately and reacting harshly. On suspension is the right thing to do right now because it hasn't even been 24 hours."
The Arizona State University Police Department released a statement Thursday saying it investigated allegations that Winslow sexually abused a teenage girl in 2007 who was a member of a swim club coached by Winslow.
Campus police said the abuse occurred at an ASU swimming center rented by the club and the club isn't affiliated with the university.
The university said Winslow worked as an ASU assistant men's swimming coach from 2003 to 2007. It was unclear whether Winslow was an ASU employee at the time.
The girl's age hasn't been released by police.
Campus police said they turned over their investigative report to county prosecutors.
Jerry Cobb, spokesman for the Maricopa County Attorney's Office, said prosecutors will review the report to determine if charges will be filed.
Nobody answered a call at Winslow's home when The Associated Press called Thursday afternoon seeking comment.
Concussion Inc. first reported the allegations involving the unidentified teenage swimmer at an Arizona club. In a statement to the website, Winslow said, "These are extremely serious allegations, and if I am accused, I will certainly respond."
Winslow, originally from Colorado Springs, Colo., is married with two children. After becoming an All-American swimmer in 1996 at the University of North Dakota, he began his coaching career with the Valley Swim Team in Colorado Springs. His collegiate coaching career includes stints as an assistant coach at ASU, the Air Force Academy and Saint Cloud State University.
He became the University of Utah swim coach in 2007. Under Winslow, 10 University of Utah swimmers have participated in the U.S. Olympic trials, and swimmers have set 38 school records.
The Utah women's team is competing at the Pac-12 Championships in Washington. Richard Marschner was appointed interim coach.