University of Kansas sets world record for holiday sweaters
The University of Kansas set a Guinness world record for "largest gathering of people wearing holiday sweaters" during a basketball game against Montana on Saturday.
The official count tallied 3,473 people wearing holiday sweaters, far exceeding the previous mark of 1,175 set by England's Loughborough University in 2014, according to the Kansas City Star.
There were some standards for the sweaters: they had to have at least one holiday item depicted and be long-sleeved, KWWL reported.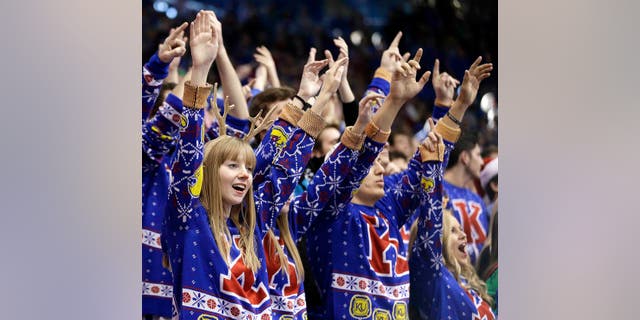 "It looked fantastic," Guinness adjudicator Philip Robertson told KWWL. "It looks really, really good. Really happy and upbeat. The town is sold out of sweaters, I believe."
The Jayhawks won the history-making game, 88-46.