Uniformed Marine barred from walking in high school graduation ceremony
NEWYou can now listen to Fox News articles!
An Indiana high school student was forbidden from walking the stage to get his diploma while wearing his Marine uniform at his graduation ceremony.
Jacob Dalton Stanley graduated in December from Crown Point High School. He completed Marine boot camp on Friday, and flew home to attend his senior class' graduation ceremony. During practice, Principal Chip Pettit reportedly told Stanley that he was not allowed to wear his uniform at the weekend graduation. Stanley decided to wear his dress blues anyway.
Meanwhile, an early graduate and Marine from the nearby Hobart High School was encouraged to wear her uniform for graduation. Hobart schools superintendent Peggy Buffington told the Times of Northwest Indiana: "This year was especially nice, because Ana Kritikos graduated midterm and landed just in time for the graduation ceremony."
Buffington described the occasion when past, present and future military were honored as a "patriotic moment where the audience roars with applause."
The Marines do not have a policy on dress for high school graduations, leaving the decision up to the individual school districts.
FALLEN AUSTIN OFFICER'S SON GETS HEARTFELT SUPPORT AT GRADUATION
Pettit, in addressing the issue regarding Stanley, said: "We have continued wearing the traditional gown, as this is the last formal event of the year and a celebration of the time our graduating seniors have spent at Crown Point High School. This tradition is not intended to be disrespectful to students, parents, or our community, but as a source of pride for our students. It is also not intended to be disrespectful to our students choosing to serve in the military, our active duty servicemen and women and our veterans. We are forever grateful for the sacrifices that they make on a daily basis for our freedom."
Stanley declined to comment, but his classmates were outraged. Fellow graduate Leann Tustison said, "if he wants to walk across the stage in his uniform -- that he worked so hard for and earned -- he should have the right to do that. That's his achievement. They honored other people's achievements whether they were in triathlon or other activities."
It's not just Marine uniforms that are causing controversy throughout the country. In Kokomo, Ind., and Redlands, Calif., high school graduates enlisting in the U.S. Army were not allowed to wear their Army stoles over their robes at graduation.
BOY'S GRADUATION SPEECH PULLED OVER CHRISTIAN CONTENT
California student Elias Velazquez said his Army stole "means something really honorable to me; it's a whole new life transition to me."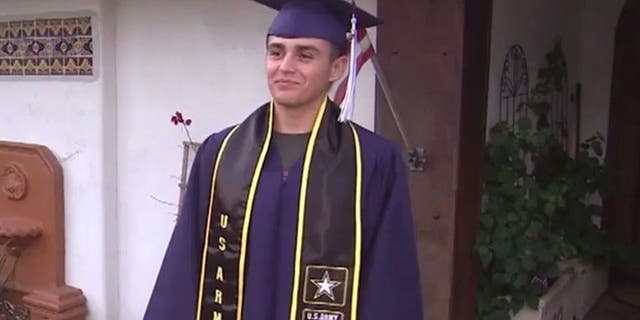 Joe Velazquez, Elias' father, shared his feelings toward the school's policy against any sort of adornments on graduation day. "It's kinda defeating the purpose of achieving that greatness. We push our kids to strive and try to be better and do the best they can and then we tell them at their grad ceremony we need you to all be the same because we don't want to hurt anyone else's feelings," said he senior Velazquez.
The Redlands School District told FOX 11 that "we are totally supportive of our men and women in the military. This has nothing to do with a lack of our support."
Read more from the Times of Northwest Indiana.