UCLA's 'Optimist' tribute to avowed communist Angela Davis blasted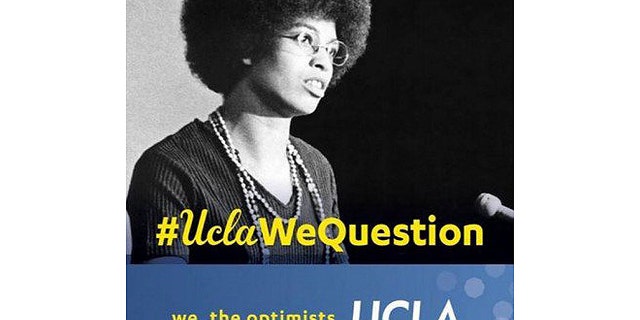 A UCLA campaign to honor role model alumni for their idealism is drawing fire after picking avowed communist Angela Davis as one of its inspirational figures.
The school-sponsored "We, the Optimists" campaign includes a banner showing a young Davis, with the words "We Question" under the image. While Davis' effort to rehabilitate her reputation has been successful in academia, some students object to her inclusion on Bruin Walk.
"Her selection as a UCLA optimist is not inspiring, it is unbalanced and perhaps politically motivated," Jacob Kohlhepp, a student at UCLA and member of the Bruin Republicans, wrote in a recent opinion piece for the widely-read higher education blog The College Fix. "What's more, the "Optimists" campaign has many powerful stories in its narrative: helping the homeless, innovating in medicine, exploring the next frontier – all of which make me feel proud to be a Bruin. Professor Davis's actions are not in this category of inspiration."
[pullquote]
The "Optimists" campaign was started by the school in 2012 to honor those the school dubbed risk-takers and game-changers. The ads, banners and videos of the campaign focus on alumni like Jackie Robinson, James Franco and Francis Ford Coppola for their contributions to society. Davis, who is now 70 and was an acting assistant professor in the school's philosophy department in 1969, is included in the campaign as well.
[image]
Davis has long been a controversial figure in American history. She was a prominent activist and radical in the 1960s and a leader of Communist Party USA. In 1970, she was implicated in a plot to free her imprisoned lover, black revolutionary George Jackson, whose brother took over a Marin County courtroom and held a judge, an assistant district attorney and two jurors hostage. In an ensuing gun battle, the judge was murdered by a shotgun owned by Davis.
Davis was charged with aggravated kidnapping and first-degree murder, but fled to New York City where she was captured at a motel by FBI agents two months later. At trial, she was acquitted and she later ran for vice president of the U.S. on the Communist Party ticket. She also served as a professor at University of California-Santa Cruz's History of Consciousness Department and chaired the school's Feminist Studies Department before retiring.
UCLA officials stood by the selection of Davis for the campaign.
"The 'We, the Optimists' campaign highlights a wide variety of students, faculty, alumni and patients who embody UCLA's relentless drive to excel and the belief that anything is possible," a spokesperson for UCLA said in a statement provided to FoxNews.com. "Angela Davis was recognized for her efforts to stand up for her academic freedom amid calls for dismissal based on her political beliefs."