UCLA students forced to improvise to secure classrooms from active shooter
Police called it a lockdown, but for many UCLA students who spent a tense two hours cowering in classrooms Wednesday as police hunted a gunman rumored to be stalking the campus, it was no such thing.
There are no working locks on the doors in many of the central Los Angeles school's older buildings. Students were left to secure themselves, barricading doors with desks and chairs as they frantically texted loved ones, shared updates and waited in fear that a killer would storm in and spray rooms with bullets.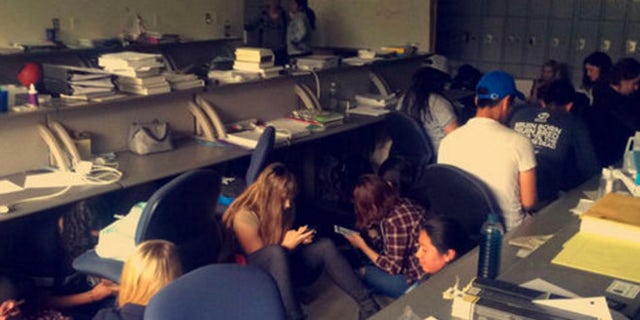 "We had a problem because apparently the doors don't lock," Shawndeez Jadalizadeh, who was in English class when a campus-wide alert went out, told Fox 11. "It's an old building so that was a huge issue. It was very unsafe."
The gunman, identified Thursday as Mainak Sarkar, a former doctoral student, had apparently already killed Associate Professor of Mechanical and Aerospace Engineering William Klug, 39, and then himself in a small office in Boelter Hall by the time the alert had been sent. Sarkar had accused Klug of stealing his computer code. No one else was hurt.
But for hours that surely felt like an eternity, a massive wave of LAPD and UCLA police combed the campus, going room-to-room and searching students. Those in class were told to "shelter in place," and, given recent campus shootings around the nation, did so with the knowledge that a killer could burst in at any moment.
"At one point we got in the farthest corner in the room. We turned all the lights off and stopped talking because that scenario runs in your head over and over again," Jadalizadeh's classmate, Frankie Masi, told Fox 11.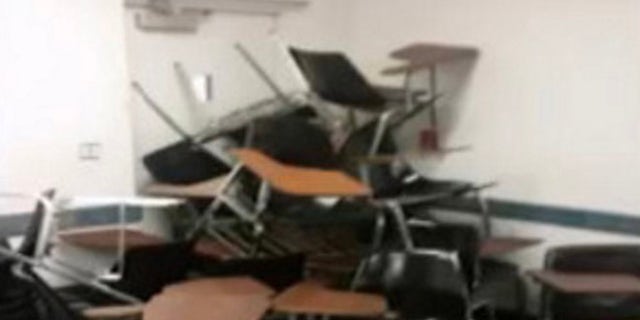 Students secured the classroom door with a belt, and hoisted a podium onto a table to barricade it. Students in other classrooms went to similar efforts in the hopes they could keep a gunman out in the absence of working locks. In some classrooms, chairs were piled against doors.
"You never expect it to happen right on the campus where you are," said Professor Mario Picazo, who normally works out of the building were police say the shots were fired in an apparent murder-suicide involving a professor and a student.
UCLA Executive Vice Chancellor and Provost Scott Waugh said he was troubled to find many of the classrooms could not be locked from the inside. He said the school will study the situation with an eye toward making the campus as secure as possible.
"We'll review the locks on the doors and any security issue that has arisen in the course of today," he said Wednesday.