Two women, dog rescued after building collapse on Chicago's South Side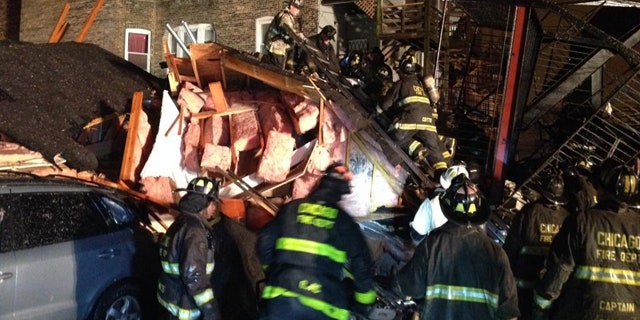 NEWYou can now listen to Fox News articles!
Two women and a dog have been rescued from the rubble of a Chicago apartment building that collapsed Sunday evening on the city's South Side.
Chicago Fire Department spokesman Larry Langford said that one of the women, a 78-year-old who lived on an upper floor, was in critical condition at a local hospital, but was also alert and talking. The other woman, who lived below her neighbor, was in fair-to-serious condition at a different hospital. Langford said that the women were the only two people who lived in the building. The rescued dog was identified as a pit bull named Tigger.
The three-year-old, three-story building on South Calumet Avenue, collapsed after an explosion around 7 p.m. local time. Approximately 100 firefighters responded to the scene.
"The whole building is pancaked," Langford told the Chicago Tribune.
Local utility Peoples Gas was also on the scene to determine whether a gas explosion caused the collapse. Langford said authorities were working with the utility, but could not immediately confirm the cause. The spokesman added that the person who initially called 911 to report the collapse heard a single large explosion.
Neighbor McKiley Jonkins told the Chicago Sun-Times she saw a flash of light, then heard an explosion.
"Boom. It was the loudest explosion I ever heard," she said.
The Associated Press contributed to this report.
Click for more from MyFoxChicago.com.
Click for more from the Chicago Tribune.