Two teens allegedly brought loaded rifles to Wisconsin HS basketball game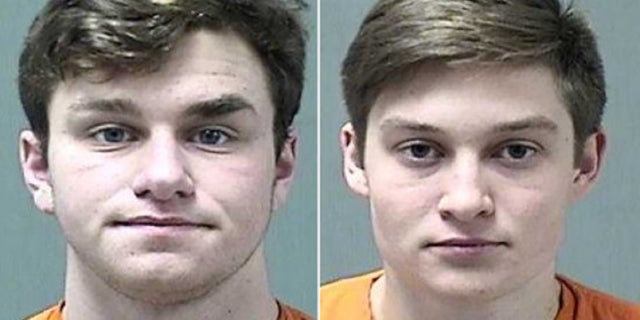 Wisconsin police arrested two men leaving from a high school basketball game who had allegedly brought five loaded guns, including three automatics Saturday.
Willard Hartman and Benjamin Krohn, both 19, were initially pulled over by police for allegedly making an illegal U-turn on Saturday outside Homestead High School in Mequon, about 20 miles southeast of Milwaukee, The Milwaukee Journal Sentinel reported.
During the traffic stop, the officer smelled marijuana in Hartman's vehicle, which led to the search that found three assault rifles, including an AK-47, and two handguns, in addition to marijuana and oxycodone in the car, The Sentinel reported, citing a criminal complaint.
The teens face a combined 25 charges in Ozaukee County Circuit Court for allegedly possessing firearms on school grounds, illegally carrying concealed weapons, possession of drugs and related paraphernalia, the report said.
Krohn told an officer that the guns, which were inside a duffel bag, belonged to him and that he brought them "in case he wanted to trade or sell them to someone," the complaint said.
Krohn also told police he and Hartman went to watch a friend play basketball at the school, The Sentinel reported.
The two men made their initial court appearances Monday and are due back in court March 6.
They were released on $5,000 cash bond, The Sentinel reported, citing court records.
Hartman and Krohn could face several years in prison and tens of thousands of dollars in fines if convicted of the charges, the report said.