Two inmates escape from Indiana jail through two-foot-wide hole in the wall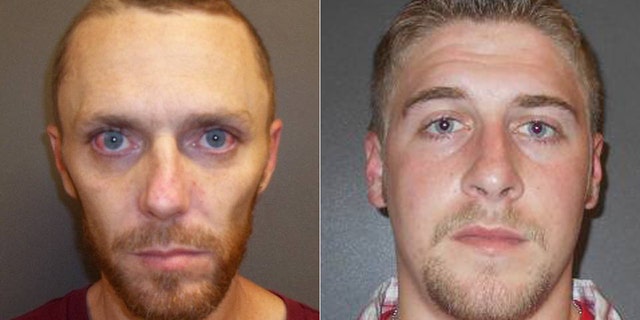 Authorities in Indiana are searching for two inmates that they say escaped through a two foot hole in their cell at the Fayette County Jail.
Jail staff noticed Chadwick R. Heath and Michael D. Roberts were missing around 1:30 a.m. Saturday when performing a routine head count before locking them into their cells for the night. Officers checked the inmates' cell and noticed a 2' by 2' hole in both the interior and exterior walls, and then notified the sheriff.
Officers and K-9 units were dispatched to the scene to try and find the inmates, but were unsuccessful.
Authorities checked the camera system and observed Heath and Roberts escaping through the hole around 11:30 p.m.
Heath is currently charged with four counts of dealing in a narcotic drug, maintaining a common nuisance and visiting a common nuisance. Roberts is currently charged with burglary and two counts of theft.
Deputies say a vehicle has been reported stolen from a man that Roberts used to work for and that he had reportedly stole from in the past. The 2015 White Ford F350 went missing Sunday morning. The truck's Indiana license plate is SZP509. The truck had white and black lettering saying " JOBE BROTHERS" on the side doors.
The Fayette County Sheriff's Department is offering a cash reward of $1,000 for any information that would lead to the apprehension of the escaped inmates.