Tulsa sheriff: Volunteer's training record wasn't falsified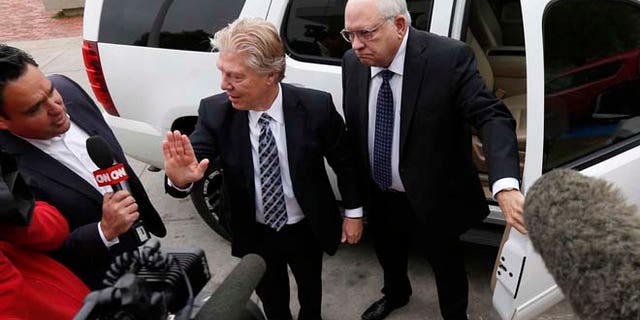 TULSA, Okla. – The Tulsa County sheriff said Monday he doesn't believe training records were falsified for a volunteer deputy who said he confused his handgun for his stun gun before fatally shooting a man this month.
Sheriff Stanley Glanz said the volunteer -- his longtime insurance agent, 73-year-old Robert Bates -- was properly trained. But the sheriff stopped short of saying Bates was qualified to use the gun he used when he killed Eric Harris earlier this month.
Bates is charged with second-degree manslaughter in the death of Eric Harris, who was shot after running from officers during a sting investigation in a gun-selling case.
"Mr. Bates has been to the range several times and is qualified, and that is documented," the sheriff said during a news conference, adding that he and Bates have known each other for about 25 years.
When asked if Bates was trained on the specific gun he fired at Harris, Glanz said: "That is something we're still looking at and it will be part of the administrative review." Glanz, sheriff since 1989, also said he has no plans to resign and has received numerous calls of support.
Harris' family -- which has questioned whether Bates was adequately trained -- didn't immediately return a message seeking comment. The Tulsa World newspaper, citing unnamed sources, has reported that some of Bates' supervisors were told to certify him after he failed to meet some qualifications.
Bates disputes those claims. His defense attorneys released some of his training records over the weekend, including certificates showing what training Bates received, job evaluation reports, and weapons training and qualification records dating to 2008.
The sheriff's office has said it was unable to locate all of Bates' training records. On Monday, Glanz said some of those records could have been destroyed under a new state law that allows state agencies to throw away records that are more than five years old.
Bates, who sold his insurance company for $6 million in 1999, was a patrolman with the Tulsa Police Department from about 1964 to 1965. It's unclear why he left the profession, but records released by his attorneys say his training back then meant he was qualified for law enforcement when he returned as a volunteer nearly four decades later.
Active law enforcement officers are required to pass a firearms test annually.
A lawyer for Harris' family scheduled a news conference for Monday afternoon to address Bates' training records.
Glanz also said Monday that action will be taken against two deputies at the scene, including one caught on video cursing at Harris as he lay dying. The sheriff said both have received threats and have been reassigned for their own safety.
"Through our administrative process we will review what those officers did and will take some administrative action," the sheriff said, but didn't provide specifics.
Glanz said nine officers were involved with the sting, and that two officers had pinned down Bates when the shot was fired.
The sheriff also said the FBI had determined Bates didn't violate Harris' civil rights. The agency didn't immediately return a call seeking comment from The Associated Press.