Tsunami threat in Alaska over after powerful 7.8 magnitude earthquake rattles region
The earthquake struck at 10:12 p.m. local time, centered in the waters 65 miles south-southeast of Perryville, Alaska
A powerful magnitude 7.8 earthquake rattled a large swath of coastal Alaska late Tuesday, triggering a tsunami warning that sent residents fleeing before it was called off.
The U.S. Geological Survey said the quake struck at 10:12 p.m. local time, centered 65 miles south-southeast of Perryville at a depth of 17 miles.
"This is a very significant earthquake in size," Michael West, state seismologist with the Alaska Earthquake Center, told the Anchorage Daily News.
5 OF THE MOST DEVASTATING EARTHQUAKES IN US HISTORY
The quake triggered tsunami warnings for South Alaska, the Alaska Peninsula and the Aleutian Islands. They were called off early Wednesday about two hours after the quake.
Tsunami warning sirens could be heard blaring in videos posted on social media as residents evacuated.
"Sirens blasting. Sounds of helicopters in the air," Timothy Daugherty tweeted.
In another video, Kelsey Frazier shared that cars were heading to higher ground.
The Pacific Tsunami Warning Center (PTWC) said tsunami activity was expected at 11:15 p.m. Tuesday on Sand Point, shortly after midnight in Kodiak and about 10 minutes after that in Cold Bay.
The PTWC issued an alert map showing possible arrival times of waves across the Pacific basin.
Kodiak Police Sgt. Mike Sorter told the Associated Press there was "no reported wave activity for our area."
SAN ANDREAS FAULT EARTHQUAKE MORE LIKELY AFTER RIDGECREST QUAKES, SCIENTISTS WARN
"No reports of any damage," Sorter said early Wednesday morning. "No injuries were reported. Everything is nominal."
The temblor sent residents fleeing to higher ground, with hundreds wearing masks to prevent the spread of coronavirus in shelters.
Unalaska City Manager Erin Reinders told the Anchorage Daily News the city notified the community to evacuate areas below 50 feet, before later issuing the all-clear.
"We were in a (city) council meeting and started feeling it rocking, and by the time I got home from the council meeting then the warnings were going and had to turn back around," Reinders said.
On Kodiak Island, the high school opened its doors for evacuees, as did a Catholic school.
CLICK HERE FOR MORE WEATHER COVERAGE FROM FOX NEWS
"We've got a high school full of people," said Larry LeDoux, superintendent of the Kodiak School District, told the Anchorage Daily News. "I've been passing out masks since the first siren sounded."
"Everything's as calm as can be. We've got probably 300, 400 people all wearing masks," he said.
According to the USGS, since 1900 there have been six other earthquakes of magnitude 7.0 and higher within 155 miles of Tuesday's quake. The largest of those was an 8.2 quake in 1938.
A magnitude 9.2 quake in 1964 was centered on the Alaska-Aleutian Trench.
CLICK HERE FOR THE FOX NEWS APP
That quake caused soil liquefaction, landslides and tsunamis that ravaged coastal communities and claimed about 139 lives, according to the National Centers for Environmental Information. Tremors lasted for nearly five minutes, while aftershocks continued for three weeks.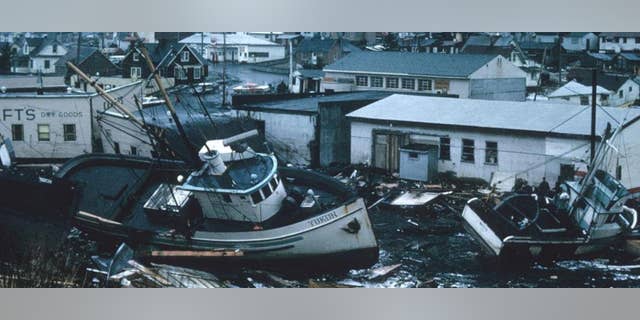 Though fatalities were minimal compared to the San Francisco earthquake of 1906, it was the most powerful earthquake ever recorded in North America.
Fox News' Bradford Betz and the Associated Press contributed to this report.