Trump doctrine: Economic security is national security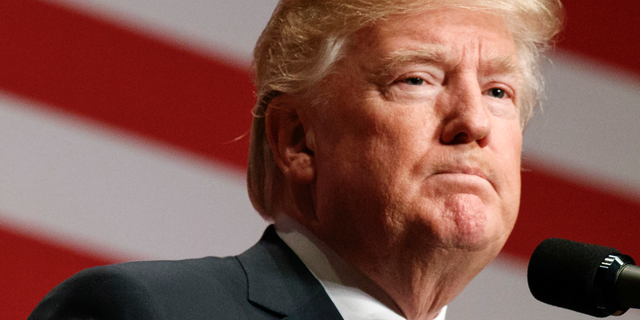 WASHINGTON – President Donald Trump declared a new national security strategy on Monday, echoing the message of his 2016 campaign as he declared "America is in the game and America is going to win."
In a speech at the Ronald Reagan Building and International Trade Center, Trump faulted previous U.S. leaders for failing to look out for the nation's citizens. He promised to seek openings to cooperate with rivals, but added that "we will stand up for ourselves and we will stand up for our country like we have never stood up before."
Trump's strategy envisions nations in constant competition, brushes aside Obama-era warnings on climate change and affirms that the United States will unilaterally defend its sovereignty, even if that means risking existing the agreements with other countries that have been a crucial part of the United States' foreign policy since the Cold War.
Revisiting many of his campaign themes, the president argued that he has already seen improvements since taking office, pointing to the economy's strong performance, his withdrawal from the Trans-Pacific Partnership on trade and his intent to exit the Paris climate accord.
"America is coming back and coming back strong," he said.
The strategy from the Republican president could sharply alter U.S. international relationships if fully implemented. It focuses on four main themes: protecting the homeland, promoting American prosperity, demonstrating peace through strength and advancing American influence in an ever-competitive world.
Trump's doctrine holds that nation-states are in perpetual competition and that the U.S. must fight on all fronts to protect and defend its sovereignty from friend and foe alike. While the administration often says that "America First" does not mean "America Alone," the national security strategy makes clear that the United States will stand up for itself even at the cost of alienating allies.
The last national strategy document, prepared by President Barack Obama in 2015, declared climate change an "urgent and growing threat to our national security." The Trump plan removes that determination — following the administration's threat to pull out of the Paris climate accord. The strategy sets a goal of being an "energy-dominant nation" but does say that the United States "recognizes the importance of environmental stewardship."
In his remarks, Trump stressed his "serious plan to defend our homeland." He called anew for construction of a border wall with Mexico, pledged to end "chain migration" of immigrants' relatives and to close "loopholes that undermine enforcement" of immigration restrictions.
The strategy emphasizes that U.S. economic security is national security. In his remarks, Trump called for "firm action against unfair trade practices and intellectual property theft."
The strategy also details the threats of "rogue regimes," like North Korea. It says that China and Russia "challenge American power, influence, and interests, attempting to erode American security and prosperity."
Despite international challenges, the document cites emerging opportunities to advance American interests in the Middle East. "Some of our partners are working together to reject radical ideologies, and key leaders are calling for a rejection of Islamist extremism and violence," it says. "Encouraging political stability and sustainable prosperity would contribute to dampening the conditions that fuel sectarian grievances."
The strategy document asserts that "for generations the conflict between Israel and the Palestinians has been understood as the prime irritant preventing peace and prosperity in the region. Today, the threats from radical jihadist terrorist organizations and the threat from Iran are creating the realization that Israel is not the cause of the region's problems. States have increasingly found common interests with Israel in confronting common threats."
Trump did not discuss Russian meddling in the 2016 election during his remarks, though the document also notes that "actors such as Russia are using information tools in an attempt to undermine the legitimacy of democracies."
He noted during his remarks that Russian President Vladimir Putin called him over the weekend to thank the CIA for help in stopping a terror plot in St. Petersburg.
"They were able to apprehend these terrorists before the event with no loss of life, and that's a great thing and the way it's supposed to work," said Trump.
He added: "Our rivals are tough, they're tenacious and committed to the long term, but so are we."
___
Associated Press writers Matthew Lee and Zeke Miller contributed to this report.
___
Follow Lemire at http://twitter.com/@JonLemire and Yen at http://twitter.com/@hopeyen1