Trump confronts Venezuela's Maduro by calling jailed nemesis 'political prisoner'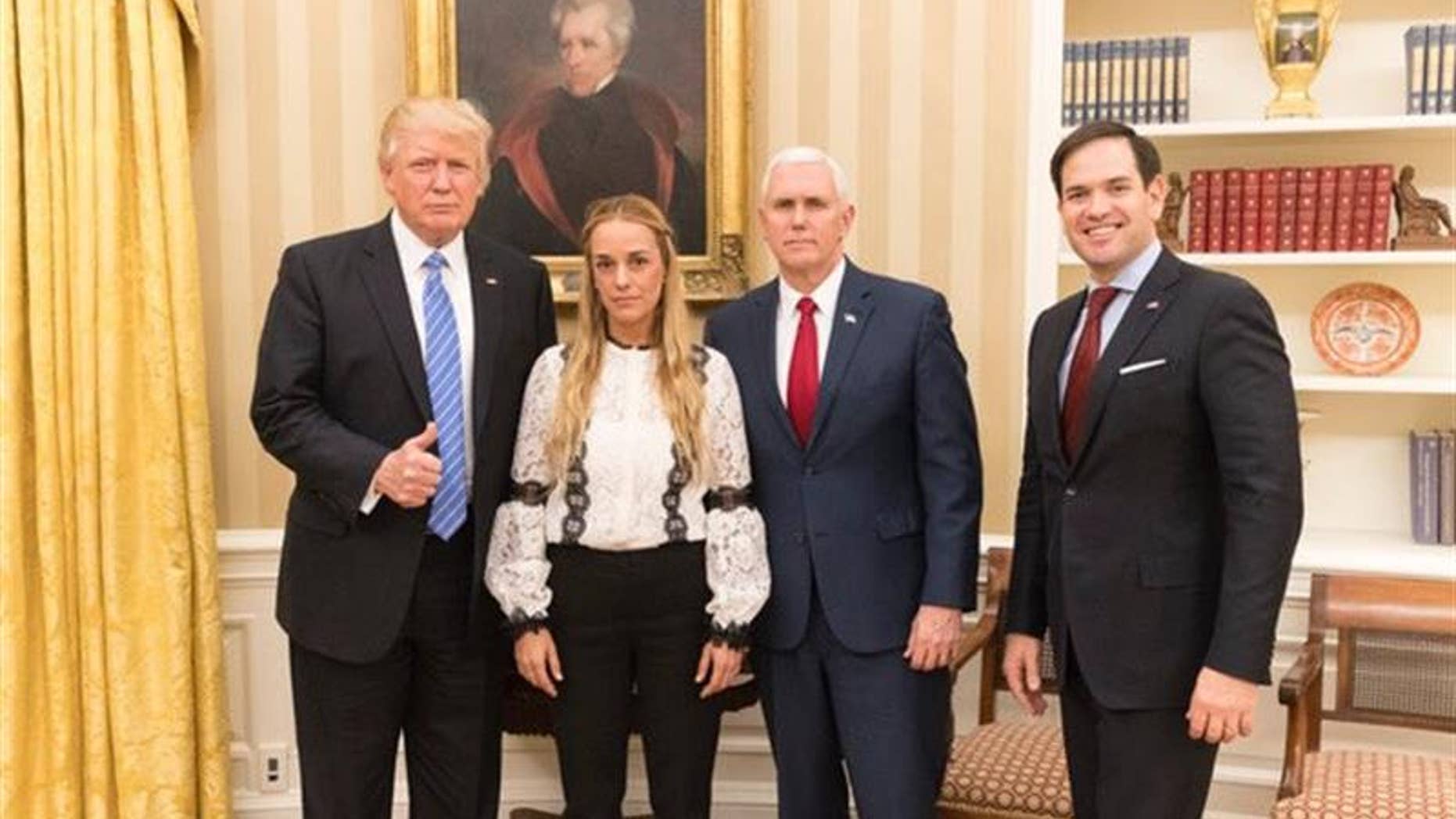 President Donald Trump opened the doors of the White House Wednesday to Liliana Tintori, the wife of the most visible faces of the Venezuelan opposition, Leopoldo Lopez.
In a later tweet President Trump called for Lopez's immediate release and openly confronted the socialist government of Nicolas Maduro by calling him a "political prisoner."
Lopez is serving a 14-year sentence in a military prison for having incited anti-government demonstrations that resulted in more than 40 deaths in 2014.

"Venezuela should allow Leopoldo Lopez, a political prisoner & husband of @liliantintori (just met w/ @marcorubio) out of prison immediately," Trump tweeted after the meeting, also posting a photograph of himself with Tintori in the Oval Office.
The tweet includes a photo of Tintori with Trump, Vice President Mike Pence and Florida Sen. Marco Rubio.
VENEZUELANS MOSTLY APATHETIC AFTER DRUG TRAFFICKING
ALLEGATIONS AGAINST VP
Earlier in the day, Tintori and Mitzy Ledezma, the wife of jailed Caracas Mayor Antonio Ledezma, met with several lawmakers, including Miami Republican Reps. Carlos Curbelo, Mario Diaz-Balart and Ileana Ros-Lehtinen.
Tintori traveled to Washington to present to the Senate her view of the Venezuelan crisis after a group of 34 legislators from both parties last week urged Trump to sanction the socialist government of Nicolas Maduro.
The White House meeting followed the Trump administration's decision this week to sanction Vice President Tareck El Aissami, blacklisting him as a major international drug trafficker. The CNN report also singled out El Aissami as being partly responsible for illegal passport sales from his days as interior minister, when he oversaw the agency that issues travel documents.
VENEZUELA SHUTS OFF CNN IN SPANISH AFTER CRITICIZING STORY
Foreign Minister Delcy Rodriguez said Wednesday that the CNN report and the sanctions were intimately linked and part of a foreign media-backed conspiracy to remove Maduro. The previous night, she delivered a letter to the acting head of the U.S. Embassy in Caracas formally protesting the sanctions.
Maduro criticized CNN on Wednesday night, calling it an "instrument of war in the hands of real mafias." He also urged Trump to avoid repeating the mistakes of the Obama administration, which also called for Lopez's release although never went so far as to invite Maduro's opponents to the White House.
"Mr. President Trump: Open your eyes and ears and don't let yourself go down the wrong path," Maduro said on state TV before news of Trump's surprise meeting with Tintori set off a buzz on social media in Venezuela.
VENEZUELANS LEAD IN US ASYLUM REQUESTS AS CRISIS DEEPENS
The suspension of CNN in Spanish followed a steady stream of criticism aimed by Venezuelan officials at CNN since the investigative report was aired Feb. 6. CNN's story was based on a whistleblower's allegations that Venezuelan officials had been selling passports from the country's embassy in Iraq to people of Middle Eastern origin, including a few members of Hezbollah.
In a statement, CNN said that it stood by its reporting and that the government's decision denied Venezuelans access to the network's news and information. It said it would continue airing content on YouTube and its website.
"At CNN en Espanol we believe in the vital role that freedom of press plays in a healthy democracy," the company said.
EFE and AP contributed to this report.