Trump: America is safe because Coast Guard is 'strong'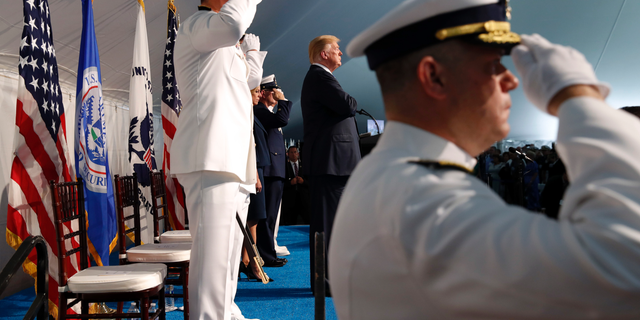 NEWYou can now listen to Fox News articles!
WASHINGTON – President Donald Trump says America is safe because the U.S. Coast Guard is "strong."
Trump calls the Coast Guard the "elite force" that defends borders, patrols the waters, protects U.S. cities and keeps enemies at bay.
He spoke Friday while presiding over a Coast Guard change-of-command ceremony in Washington.
Adm. Karl Schultz became the 26th Coast Guard commandant, succeeding Adm. Paul Zukunft.
Trump thanked Zukunft for a "lifetime of noble service" and expressed "complete confidence" that Schultz will carry out his new responsibilities with "character, strength and devotion."
Trump recalled watching the Coast Guard last year after powerful hurricanes struck Texas, Florida and Puerto Rico. Trump says no brand has gained more than the Coast Guard and that the public has "tremendous respect" for it.