Tropical Storm Olivia brings Hawaii dam near capacity; thousands may need to evacuate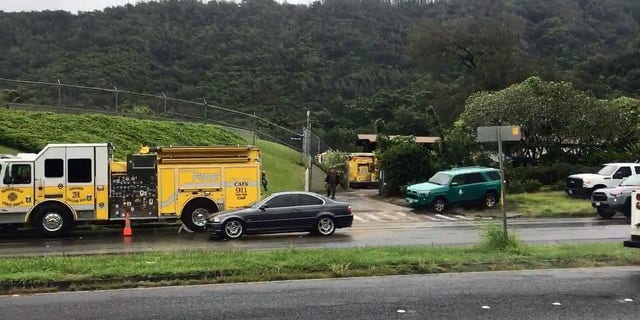 Officials in Hawaii said Thursday that up to 10,000 residents of Oahu may need to leave their homes after heavy rains from Tropical Storm Olivia filled the Nuuanu Reservoir to near capacity, though they later said there was no danger that the dam would fail.
The Honolulu Board of Water Supply (BWS) said the water level in the reservoir rose 4 to 5 feet overnight and was approximately 18 inches below the spillway of Nuuanu Dam No. 1.
BWS said it and the Honolulu Fire Department were "deployed at the dam with water pumps to bring the level of the reservoir down further." The spillway could be used to release water from the dam, but that would cause some flooding downstream.
"This is not a dam breach situation right now," BWS Chief Engineer Ernie Lau told reporters Thursday. "We're nowhere close to that."
The agency, which is the water utility for nearly 1 million people in Honolulu and surrounding towns on Oahu, said it would coordinate with the city on any evacuation notice.
Andrew Pereira, a spokesman for the city, urged residents to be aware of the situation.
"While it appears the rain is subsiding, we are taking a cautious approach and asking residents to remain on alert," he said in an email.
Olivia was downgraded to a tropical depression Thursday, one day after it crossed the Hawaiian Islands and made landfall on Maui and Lanai. However, forecasters warned downpours would continue, producing additional rainfall of 3 to 5 inches and isolated amounts of 6 to 8 inches on higher terrain.
That could cause life-threatening flash floods because the ground is already saturated, the Central Pacific Hurricane Center said in a statement.
President Trump has signed a disaster declaration, which will help FEMA respond, Gov. David Ige said.
The Associated Press contributed to this report.