Tropical Storm Gordon threatens Gulf Coast, hurricane warning in place
Tropical Storm Gordon continued to gain strength Tuesday morning and is expected to become a hurricane by the time it hits the central U.S. Gulf Coast, including coastal Mississippi -- just as the hurricane season reaches its peak period.
Voluntary evacuation orders were issued Monday for parts of Louisiana for residents in areas outside the levee protection system. Gov. John Bel Edwards declared a state of emergency Monday and said 200 National Guard troops will be deployed to southeastern Louisiana.
The National Hurricane Center said at 2 p.m. ET that the storm was centered 130 miles south-southeast of Mobile, Alabama. Maximum sustained winds were clocked at 65 mph. After making landfall, it is expected to charge inland over the lower Mississippi Valley on Wednesday.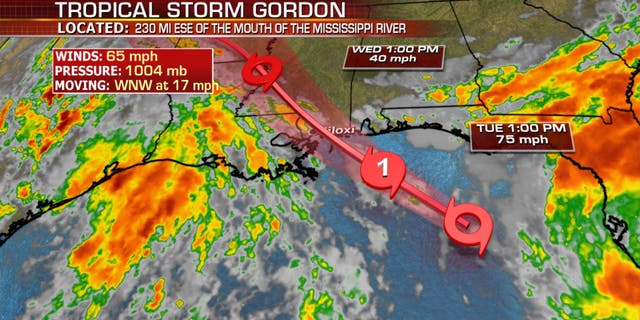 "Tropical Storm Gordon is forecast to intensify to a minimal hurricane before making landfall near Mississippi tonight before midnight," Fox News Senior Meteorologist Janice Dean said Tuesday. "Luckily the storm will be a quick mover lessening impacts from being a prolonged event."
The hurricane warning was placed into effect for the area stretching from the mouth of the Pearl River in Mississippi to the Alabama-Florida border. As much as 8 inches of rain could fall in some parts of the Gulf states through late Thursday.
"Heavy rain will accompany Gordon along its track, spreading an extensive swath of 3 to 6 inches will locally higher amounts," Dean said. "Severe thunderstorms will also be likely over parts of the Gulf Coast with damaging winds and isolated tornadoes."
2018 ATLANTIC HURRICANE SEASON NOW TO BE 'LESS ACTIVE' APPROACHING PEAK MONTHS, NOAA SAYS
The National Hurricane Center reported the storm could unleash "life-threatening" storm surge to portions of the central Gulf Coast. A storm surge warning has been issued for the area stretching from Shell Beach, Louisiana, to Dauphin Island, Alabama. The warning means there is danger of life-threatening inundation. The region could see rising waters of 3 to 5 feet.
"The deepest water will occur along the immediate coast near and to the east of the landfall location, where the surge will be accompanied by large waves," the center said.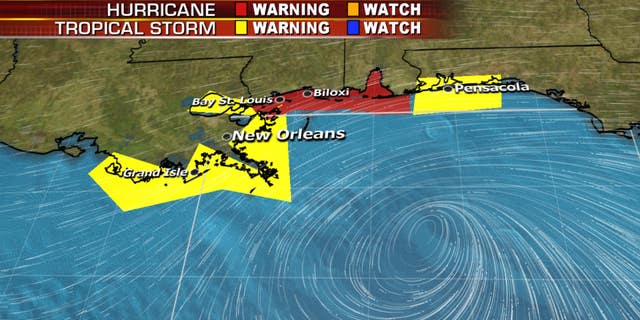 In New Orleans, city officials issued a voluntary evacuation order for all those living outside of the levee protection system, FOX8 reported. That includes the areas of Venetian Isles, Irish Bayou and Lake Catherine.
New Orleans Mayor LaToya Cantrell said the main threat to New Orleans stems from rain, with 3 to 6 inches expected. Gordon is expected to dissipate by Saturday somewhere in the central U.S.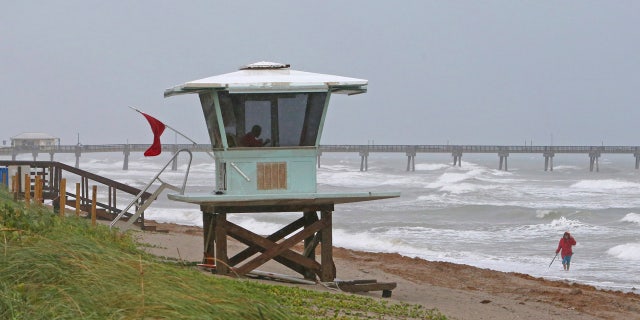 In Alabama, retailers did not report a rush of customers preparing to stock up for the upcoming storm.
"Not so far today, but I expect traffic will pick up tonight and obviously tomorrow as the storm system gets closer," James Basler, a manager at Academy Sports + Outdoors, told FOX10.
Alabama Power said it was preparing for the worst from Gordon, bringing in crew members from throughout the state to Mobile to make sure in case of an outage, power gets turned back on quickly.
"High winds can cause power outages even during the regular thunderstorm so certainly anytime we have weather of this nature we could expect power to go out," Beth Thomas, spokesperson for Alabama Power, told FOX10.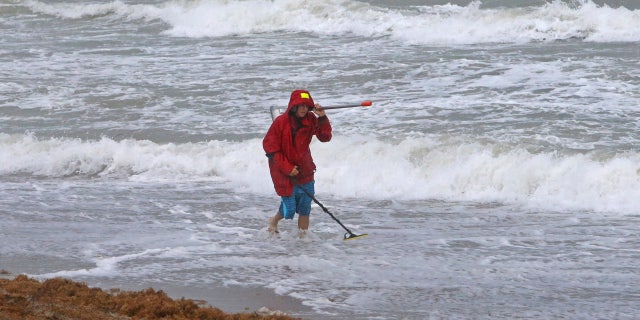 "Everyone should make sure they have a plan and make sure that plan is ready just as people would normally do at this time of the year when we're at the height of hurricane season," Thomas added.
After periods of heavy rainfall, flood advisories were in effect for parts of South Florida late Monday.
Tropical Storm Gordon is the Atlantic basin's seventh named storm of the year. Last month, the National Oceanic and Atmospheric Administration said the Atlantic hurricane season is now expected to be "less active" as it enters its peak months due a combination of conditions in the ocean and atmosphere helping to limit storm development.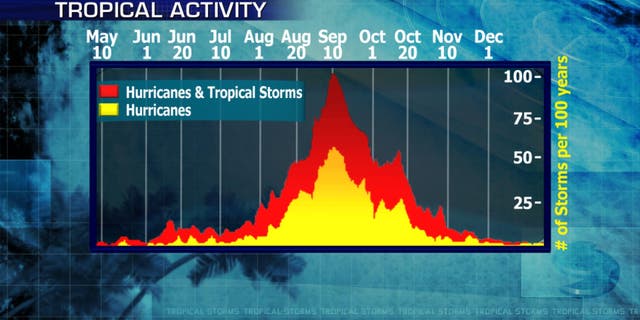 NOAA forecasters are now calling for 9 to 13 named storms with winds of 39 mph or higher, of which 4 to 7 will strengthen into hurricanes. Of those storms, there may be up to 2 major hurricanes, which are classified as Category 3, 4 and 5 with winds of 111 mph or higher.
Fox News' Caleb Parke and The Associated Press contributed to this report.