Troopers surprise 10-year-old boy when nobody shows up to his birthday party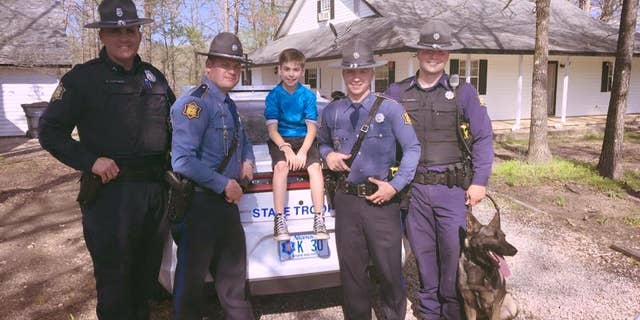 A 10-year-old boy in Arkansas said his heart sank when his mom sent 21 classmates invitations to his birthday party earlier this month, but nobody showed up.
Two days later, the doorbell rang. A group of state troopers stopped by, and they brought cake.
"They had come to give me all that stuff and make up their own birthday party for me," Toxey Ahrabli told KTHV. "I cried a little bit because they did that for me."
At first, a few parents said their children would attend, Toxey's mom told ABC News. "We thought there were at least five kids coming," Angela Andrews said. But she told the news station one child fell ill, and the others were no-shows.
She wrote about her son's grief on Facebook. Some state troopers noticed, and agreed the boy deserved a surprise party at his home in Hot Springs Village.
Toxey said he was "scared and at the same time trying to figure out why they were here." But along with the cookie cake, they had gifts ranging from video games to a razor scooter.
"They showed me all the keys to do the sirens and the horn. I also got to see the cage with the dog in it," he told KTHV. They also played a round of basketball.
"Cpl David Forthman, along with Troopers Terry Sawyer, Kyle Sheldon, Brandon Cook, and Tim Callison are the reason we become troopers. We all want to make a difference," state police posted on Facebook.