Trooper killed in Massachusetts crash remembered as a family man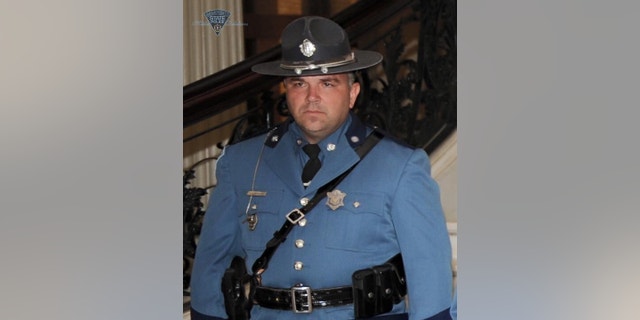 A state trooper who died following a crash on the Massachusetts Turnpike was remembered at his funeral on Tuesday as a dedicated family man and valued colleague.
Thousands of police officers from across the state and nation stood at attention outside St. Michael church in Hudson during the service for Trooper Thomas Clardy, 44, a Marine Corps veteran and father of seven. The service was followed by burial attended by officers and a Marine Corps honor guard.
"Tom looked at everybody with good eyes and a good heart," retired state police Sgt. Albert Toney said during the eulogy.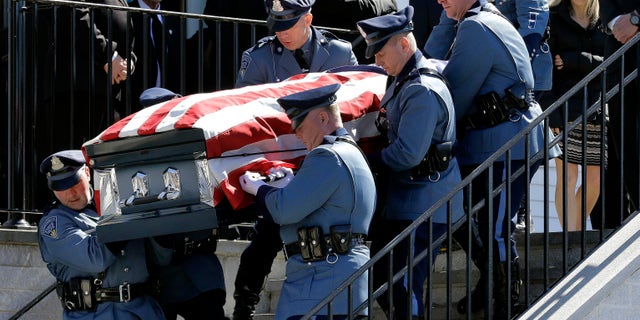 Toney read poignant messages from Clardy's children -- daughters who recalled their father as man with a sense of humor who always had time for a game before work, and a son who remembered his dad taking him to his first R rated movie and letting him stay up late to watch a college football bowl game.
Toney waited until the end of the eulogy to explain the toy Incredible Hulk hands that rested on the podium. Clardy wore them as a joke around the barracks, and gave them to Toney on the day of his retirement, saying "Sgt. Toney, I want to be just like you."
"Negative Tom," Toney said, wrapping up the eulogy. "We all aspire to be just like you."
Bishop William Benjaminsen of the local Mormon congregation, where Clardy was a member, said Clardy was taken too soon.
"Tom still had much to give, but what he did provide to us was a life of service to his country, to the people of Massachusetts, and to his family," he said during the service, which was held in a much larger Catholic church to accommodate the anticipated rush of support.
Before the funeral, highway message boards around Massachusetts read: "Rest in peace, Trooper Thomas Clardy."
Clardy had stopped a car for a traffic violation in Charlton on March 16 when his cruiser was hit by another vehicle. Investigators say the car had swerved across all three travel lanes without slowing down.
The driver of that car, David Njuguna, 30, of Webster, remains hospitalized with serious injuries. Family members have said he doesn't remember the crash.
He's charged with negligent operation of a motor vehicle and a marked lane violation.