Tribe near Grand Canyon issues disaster declaration after extensive flooding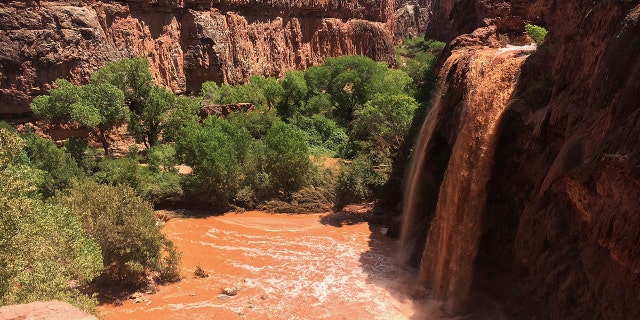 An American Indian tribe issued a disaster declaration Thursday after its tribal land deep in a gorge off the Grand Canyon saw extensive flooding earlier this month.
The Havasupai reservation in Supai, Ariz., is known for its towering blue-green waterfalls, but muddy floodwaters sweeping through Havasu Canyon forced the evacuation of about 200 people.
The tribe spent $25,000 to feed, clothe and evacuate the tourists who stayed overnight in a community building in the village.
ARIZONA FLOODS FORCE HUNDREDS OF TOURISTS TO EVACUATE, RESCHEDULE TRIP TO FAMOUS TRIBAL LAND
Emergency repairs to the hiking trail and in the village and campground were expected to top $250,000 — a cost the tribe said it cannot shoulder without outside help.
"The unstable and dangerous conditions of the affected areas and our tribe's limited resources necessitate the need for federal assistance," tribal Chairwoman Muriel Coochwytewa said in a news release.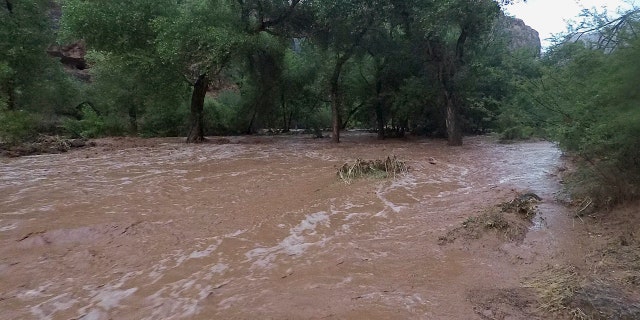 The tribe's disaster declaration was approved July 17 and is needed for the tribe to request financial help from the federal government.
Supplies are being delivered via helicopter, the only current way in and out of the reservation.
The existing waterfalls turned a muddy brown, and new ones emerged from the steep walls of the canyon.
No one was seriously injured.
Crews are working to remove boulders, trees, debris and abandoned camping gear and rebuild footbridges and parts of the hiking trail, tribal spokeswoman Abbie Fink said.
The closure of the reservation is an economic hit for the tribe, which relies on tourism. It plans to reopen the campground and a lodge Sept. 1.
The Associated Press contributed to this report.