Trial balloon: Pennsylvania police borrow 'blimp in a box' for Eric Frein manhunt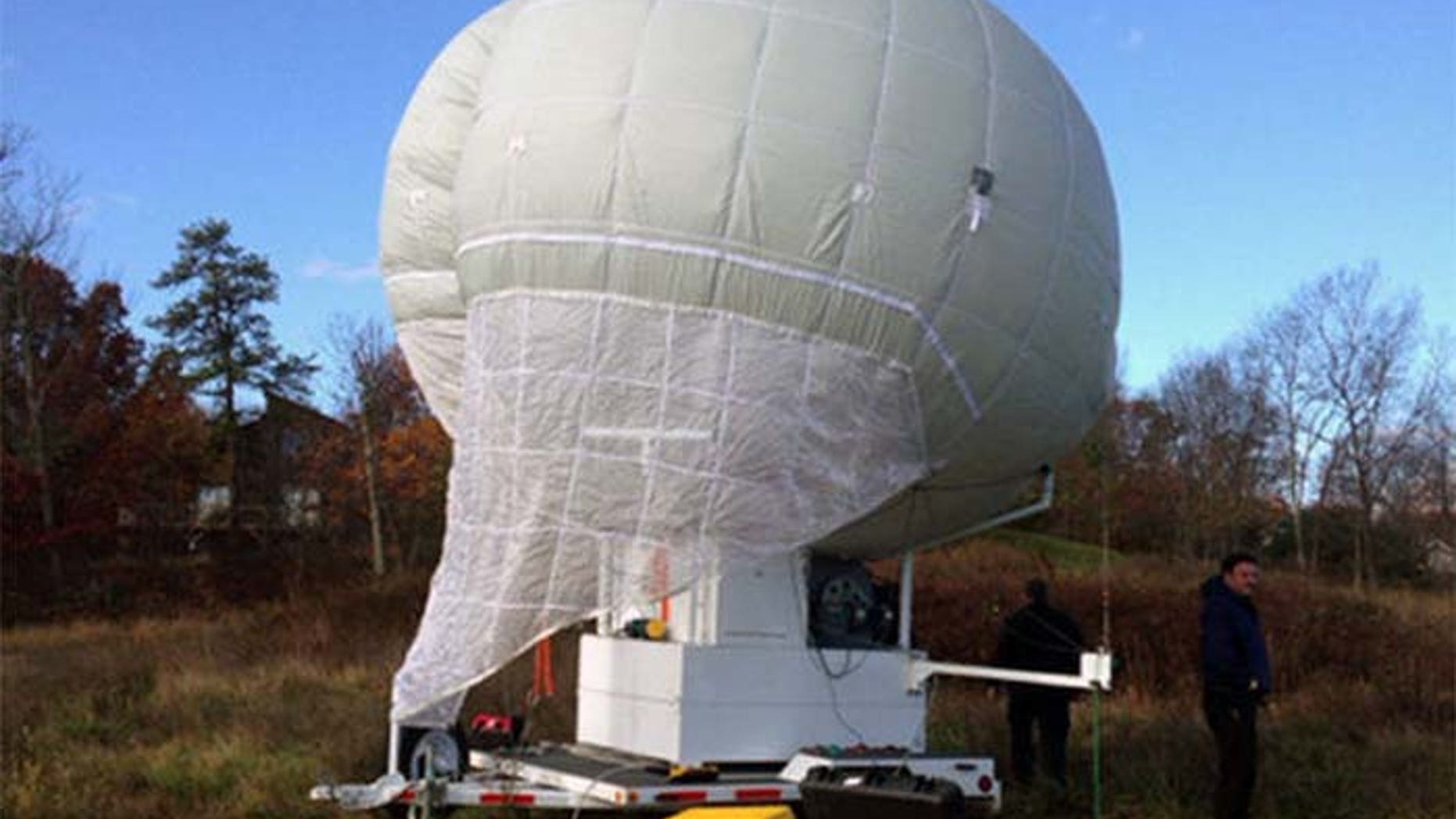 Pennsylvania State Police are getting a lift from Ohio in the 45-day manhunt for suspected cop killer Eric Frein, in the form of an unmanned balloon that will serve as an eye in the sky.
With Frein believed to be hiding somewhere in the rugged woods of northeastern Pennsylvania, hundreds of state troopers have been on the hunt for him, at a cost estimated at $500,000 a week. But police are hoping a "blimp in a box" on loan from the Buckeye State's Department of Transportation can finally help them get a fix on the 31-year-old, self-styled survivalist who allegedly opened fire outside the Blooming Grove state police barracks on Sept. 12, killing Trooper Bryon Dickson and seriously wounding Trooper Alex Douglass.
[pullquote]
The balloon, which has previously done duty high above prisons in Ohio, will remain tethered and nearly 500 feet above the Pocono Mountain region where Frein is believed to be hiding and unconfirmed sightings have taken place within recent weeks. The 15-foot diameter, Mylar balloon, which has video cables that send images back to the ground, is in use near the 400 block of Timber Hill Road in Paradise Township, Pennsylvania State Police Trooper Thomas Kelly said this morning in an email update.
"It is very similar to a weather balloon," Kelly said. "It is tethered, unmanned and can provide similar levels of technology as some of our aviation equipment at a fraction of the cost. It is also silent as compared to helicopters.
[image]
"This is an experimental device and it was offered to us by Ohio D.O.T," he added. "As we stated before, we are utilizing many types of technology in this search for Eric Frein."
Inflating the blimp with helium costs roughly $1,000, according to Dan Erdberg, the chief operating officer with Drone Aviation, which made the balloon. The camera on the balloon can spot people as far as 3 miles away and groups of people or vehicles as far as 5 miles away.
Authorities, including the state police, FBI and U.S. Marshals, believe they have Frein contained in a 5-mile radius. Earlier this month, Pennsylvania State Police revealed information from a journal found in the woods, in which Frein allegedly described shooting the state troopers. They also detailed campsites where Frein is believed to have lain low, cooking over small fires even as hundreds of heavily armed police hunted him. Police have found pipe bomb booby traps and a gun resting against a tree, but have only had a handful of unconfirmed sightings of Frein.
"Got a shot around 11 p.m. and took it," Freins wrote on papers found by police. "He [Dickson] dropped. I was surprised at how quick."
One week ago, a local law enforcement official is believed to have spotted suspect Eric Frein near the Swiftwater Post Office, leading to an intensive police search. The post office is less than a half-mile from a high school, junior high and elementary school campus.
"He lost visual contact with the man through the woods," Kelly said last week. "A search of the area was conducted but no one was located."