Train crashes in Texas with 18-wheeler truck
The train was carrying petroleum and the collision created a large explosion
A Burlington Northern Santa Fe (BNSF) train collided with an 18-wheeler outside Cameron, Texas, on Tuesday morning, police confirmed to Fox News.
An explosion occurred as a result of the crash, and authorities have labeled the collision a hazmat situation, according to the Cameron Police Department.
The BNSF train was carrying mixed freight and derailed near Hoyte. The train was struck by a semi-truck, "which impacted a [train] car carrying gasoline," BNSF Railways Senior Director of External Communications Courtney Wallace confirmed to Fox News.
TEXAS MOTHER RECALLS FIRE THAT LEFT HER MOTHER, 3 CHILDREN DEAD: 'I WAS SCREAMING THEIR NAMES'
Out of a total 110 train cars, 13 derailed, Wallace said, citing initial reports. Five train cars that were carrying gasoline are still on fire.
"There were no injuries to the crew or truck driver. Local first responders and BNSF personnel are onsite to respond to the incident," Wallace said. "Out of an abundance of caution, local authorities have established a half-mile radius evacuation zone near the site. The cause is under investigation."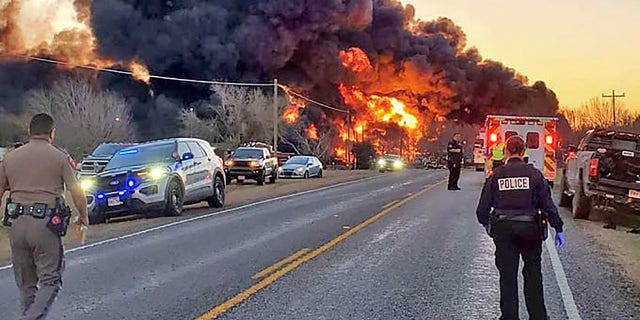 Police first received communication about the crash around 6:45 a.m. CT and sent out mutual aid to first responders at the scene.
Milam County Sheriff Chris White will be sharing more information about the collision later this morning.
CLICK HERE TO GET THE FOX NEWS APP
Police are evacuating nearby houses and telling people in the area to avoid Highway 90.
This is a breaking news story. Please check back for updates.