Tornado strikes El Reno, Oklahoma; at least 2 deaths confirmed: reports
NEWYou can now listen to Fox News articles!
Severe damage, including fatalities, occurred after a likely tornado struck in El Reno, Okla., on Saturday night, according to local police and media reports.
The powerful gust leveled the second story of a motel and killed at least two people at a mobile-home park in the area, reports said.
"Right now, El Reno needs your prayers," Mayor Matt White told the Oklahoman newspaper of Oklahoma City.
"Right now, El Reno needs your prayers."
The police department in nearby Union City, Okla., confirmed in a Facebook post that "serious injuries and fatalities" occurred, but did not provide details.
The tornado is believed to have touched down in the area of Highway 81 and Interstate 40, FOX 25 of Oklahoma City reported.
Later, the mayor confirmed that at least two people were killed at the trailer park.
"You could hear the roar and everything when it came through," Richard Griffin, a resident of the Skyview Mobile Home Park, told the Oklahoman.
"You could hear the roar and everything when it came through."
Near the motel, a reporter for Oklahoma City's KWTV-TV reported seeing victims "pulled from the rubble."
The American Budget Value Inn was heavily damaged by the storm. Images at the scene showed emergency crews sifting through the rubble after part of the motel's second story collapsed into a pile of debris strewn about the first floor and parking lot.
'Traumatic event'
Elsewhere, overturned cars and twisted metal could be seen briefly as intermittent lightning flashed across the sky and the wailing sirens of approaching emergency vehicles could be heard in the distance.
"We have absolutely experienced a traumatic event," Mayor White said during a news conference early Sunday.
At the motel site, multiple people remained unaccounted for, Oklahoma City's KFOR-TV reported.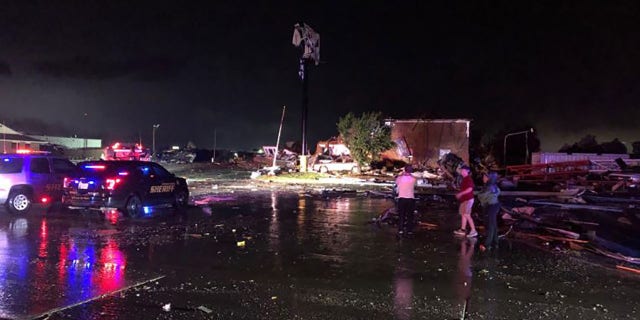 'All hands on deck'
At the Sunday news conference, the mayor expressed confidence that the small city would be able to recover from the disaster.
"Our community is very resilient," White said.
He added that the city was in an "all hands on deck" situation, but officials were still trying to assess how to transport first responders safely to affected areas.
El Reno is a city of about 16,700 residents, about 29 miles west of Oklahoma City.
CLICK HERE TO GET THE FOX NEWS APP
Late Saturday, the National Weather Service office in Norman, Okla., sent out a Twitter message warning Oklahoma residents of an approaching tornado.
"You will NOT be able to see these tornado [sic] so don't even bother looking. You will not have much time to get to shelter," the weather service warned.
The state and others in the central U.S. have been hit by heavy rains and flooding in recent weeks. On Thursday, Gov. Kevin Stitt praised the work of first responders and volunteers who have been providing help.
Stitt also toured flooding in the Muskogee area aboard an Oklahoma National Guard helicopter.
Earlier Saturday, President Trump approved an emergency declaration to assist Oklahoma after flooding damaged more than 1,000 homes, the Hill reported.
This is a developing story. Check back for updates. The Associated Press contributed to this report.