Tornado flips cars and triggers building collapses in Pennsylvania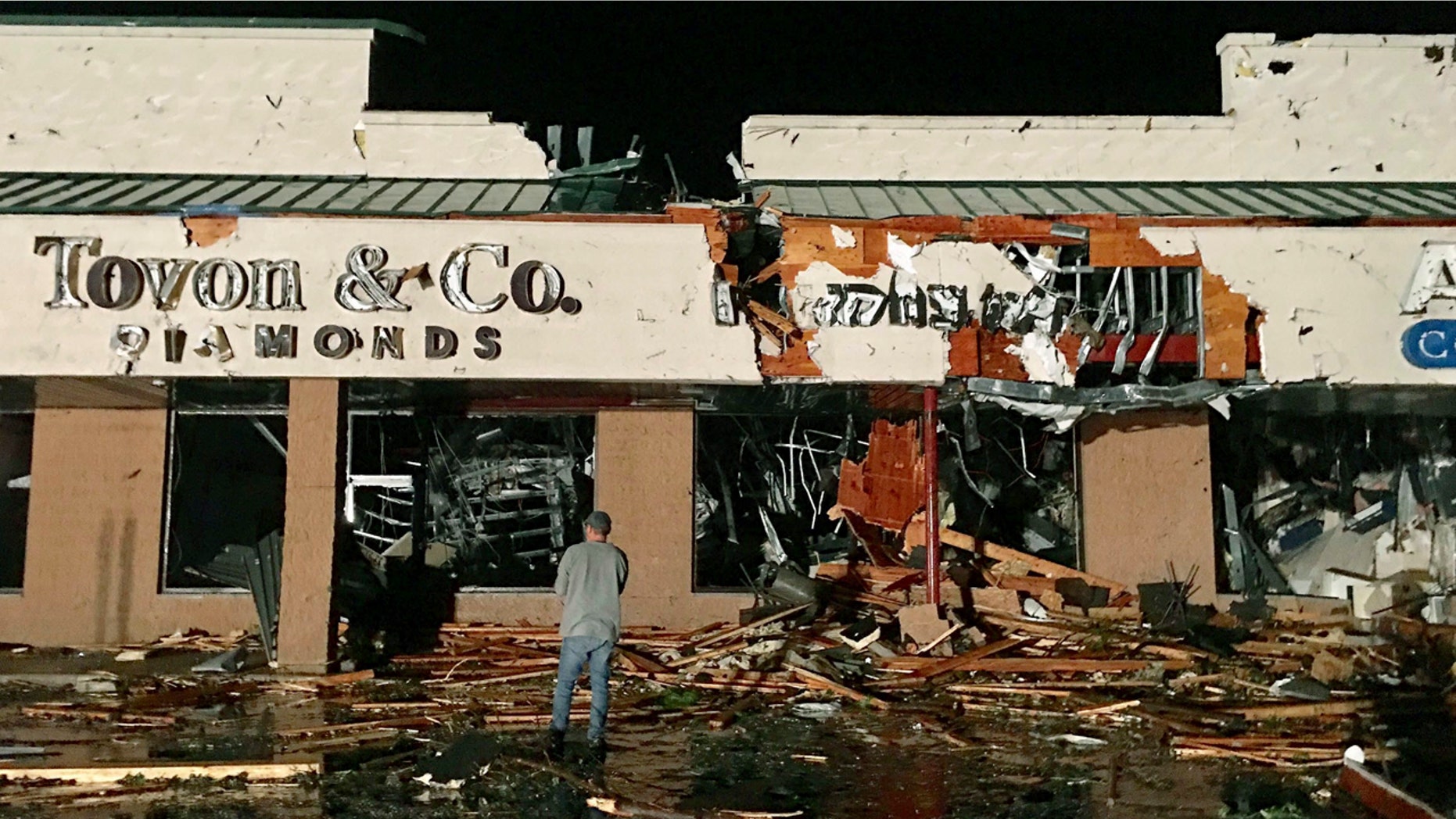 The National Weather Service confirmed Thursday that a strong tornado touched down in northeastern Pennsylvania, damaging businesses and flipping cars in a shopping center as survey teams are working to figure out if other twisters touched down across the region.
The NWS Binghamton office said in a bulletin a survey team confirmed an EF-2 tornado with an estimated maximum wind speed of 130 mph occurred in the Wilkes-Barre Township on Wednesday night around 10 p.m.
"The tornado touched down near Mundy Street and Highland Park Boulevard by the Wyoming Valley Mall and traveled about a half mile southeast toward I-81 before dissipating," the NWS said. "Numerous roofs were destroyed and windows blown out. Structures were sheared off near their foundation. Power poles were snapped with numerous lines down."
The "considerable storm damage" was centered in the northeast part of the state on Wednesday in Luzerne and Bradford Counties, according to the NWS Binghamton office.
In Wilkes-Barre Township, most of the damage was reported in the area of the Wyoming Valley Mall.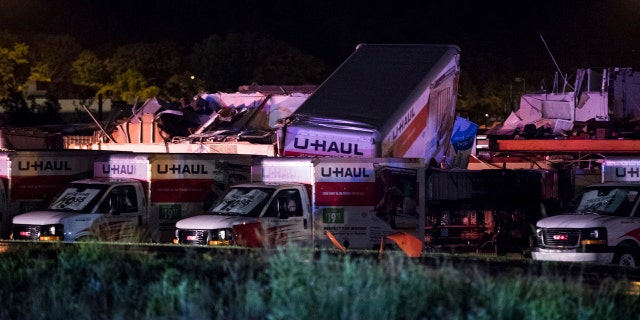 The Wilkes-Barre Township Police Department posted on Facebook that there were "multiple collapsed/damaged buildings" in the area of Mundy Street, and asked drivers to avoid the area.
Luzerne County officials told FOX56 that 23 businesses were damaged or destroyed in the tornado's path.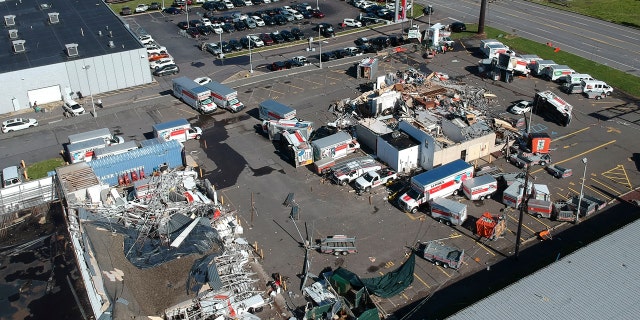 Luzerne County Emergency Management Agency volunteer Garrett Hittle said crews were working to stabilize the propane cylinder by off gassing the contents.
"The scene is not safe enough to have people be able to go in and perform a complete assessment at this point," Hittle said. "It affected between a half-mile and mile radius of mostly business interests."
Hittle said there were reports of six storm-related injuries that were not life-threatening and did not require anyone to be admitted to the hospital.
Pictures from the area showed major damage to businesses, including flipped vehicles at a car dealership and U-Haul facility.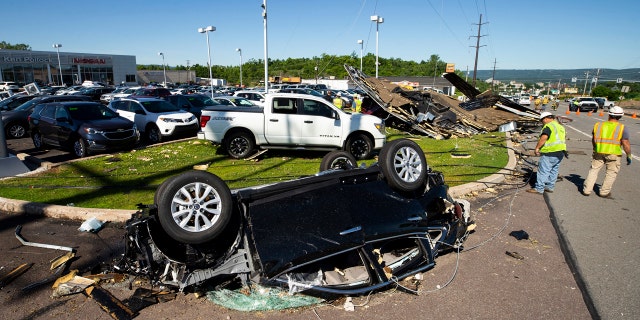 MORE STRONG STORMS, SOME HEAT RELIEF AND RAIN COURTESY OF TROPICAL MOISTURE INTO THE SOUTHWEST
Bruno Isles, an employee at a Panera Bread restaurant in the area, told the (Wilkes-Barre) Times Leader that he was washing dishes in the back of the restaurant at the time the storm hit.
"I was washing dishes in the back, my manager had us secure the doors," Isles said. "We had tables and chairs flying through the windows."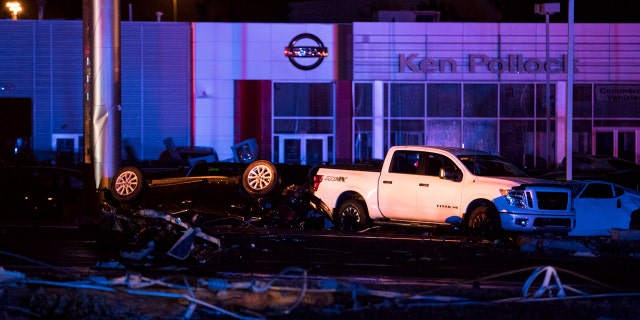 Further north in Bradford County emergency responders reported damage to homes and businesses in Granville and Franklin Townships.
"I've been in the department since 1973, I have never seen anything like this in our area," Troy Fire Department Chief Roy Vargson told WNEP.
The NWS posted photos on Twitter from the survey team in Bradford County in the Granville, Leroy and Franklin Townships.
"They are still assessing if the damage was due to straight line winds or a tornado from the storms on June 13," the agency said.
Jeff Scarboro, the director of public safety and emergency management for Bradford County, told the Associated Press there were about 10 homes with varying reports of damage some of which appeared to be destroyed.
"There were initial reports of entrapments with building collapses and debris, but local fire departments helped with removal from those properties," Scarboro said.
Scarboro said some of the rescues included at least one person in a wheelchair who needed help because of debris and older couples who were trapped in storm cellars by debris.
The Associated Press contributed to this report.