Toddler's body found in NY yard, death went unreported for 2 years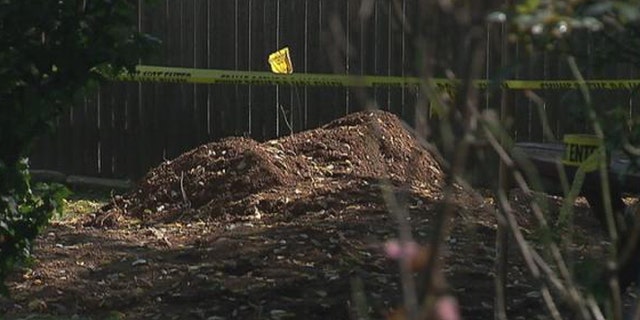 NEWYou can now listen to Fox News articles!
FARMINGDALE, N.Y. – A routine child welfare investigation led to the discovery Saturday of a toddler's corpse buried in the backyard of a Long Island home.
State police unearthed the remains in the dead of night at a tidy house in Farmingdale after being told by the boy's mother that he died two years ago. The circumstances of his death remained unclear Saturday.
The boy, Justin Kowalczik, was about 17-months-old when he died in the summer of 2010, police said. Authorities said the family never reported the child's death.
"It is absolutely a suspicious death and it is being investigated as such," said State Police Major Patrick Regan. "We don't have a cause of death, and to our knowledge, there was never a report made of the child being missing."
Investigators were trying to determine how the child died and why the family kept it a secret.
Officials with Suffolk County's Child Protective Services agency initially went to the home Wednesday to check on the health of one of the woman's three children. They grew concerned when the family couldn't account for the whereabouts of a child born in 2009.
That led to a police interview of the mother, Heather Kowalczik, who told them first that the child was with family upstate, but when her story didn't check out she admitted the child had died shortly after the family moved to Farmingdale from Orange County two years ago, MyFoxNY.com reports.
On Friday, police sought Kowalczik's boyfriend, Robert Rodriguez, who is the father of her two older children, ages 6 and 9, but not of Justin. As of Saturday afternoon, he had refused to answer questions, Regan said.
"He did not come in willingly. He is not cooperating," Regan said.
Neither Rodriguez nor Kowalczik had been charged with any crimes.
Kowalczik's two surviving children were in the custody of county child welfare agents, police said.
The discovery has shocked the neighborhood, prompting the landlord of the property to think about selling the house.
"I don't even want to come back here," the landlord told MyFoxNY.com.
Neighbors say they thought the family only had two children.
"It's shocking. Hard to believe," Michelle Peavey, a neighbor whose own children played in the yard with the couple's children, told MyFoxNY.com.
Police say the body was buried around the same time his family moved to the home.
Neighbor Tekiera McCormack told Newsday that she was stunned.
"I can't see this," she told the newspaper. "This is crazy. She was a good mother. Those kids loved her."
Click for more from MyFoxNY.com.
The Associated Press contributed to this report.