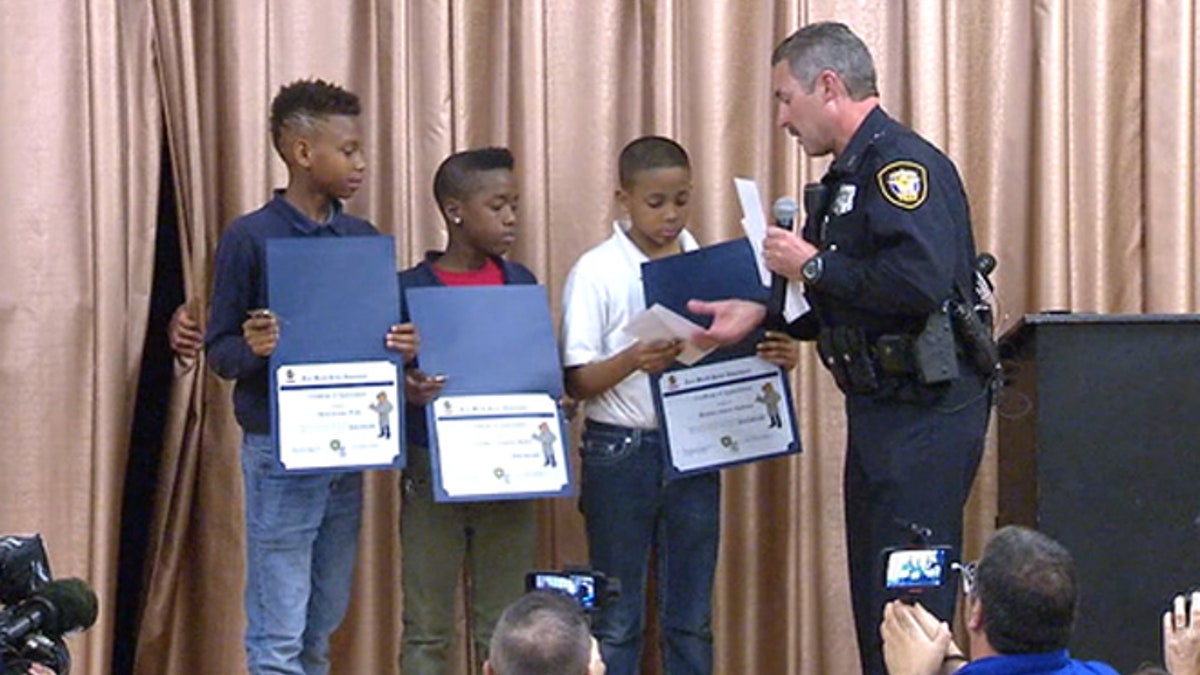 Three sixth graders from Glencrest Sixth Grade School in Fort Worth were lauded as heroes Thursday for helping Fort Worth police catch a burglary suspect.
Officers presented David Willis, Kenyon Maloney and Travontae Barker each a bicycle, a police challenge coin and a certificate in front of their classmates today.
Officers pooled their money to buy the new bikes, which came with donated helmets, to recognize the boys' quick thinking when they encountered a suspect on the run.
GEORGIA BOUNCE HOUSE PARTY SHOOTING: 2 CHILDREN, 1 ADULT HURT
On March 29, police said the three boys were on their way to school when they noticed police were out looking for someone.
About that time, a man ran up and offered each of them $20 to help him hide. The man might as well have asked police for help.
"He offered us $20," Travontae said. "We didn't want to take it. We knew he was a bad guy and something was wrong."
EX-KARATE TEACHER GETS TRIAL ON MURDER SOLICITATION CHARGES
"He won't be robbing nobody's house no more," Kenyon said. "Nobody get robbed by this man no more. They don't have to worry about it no more I guess."
Fort Worth officer Johnny Cox says the boys ran up to him and pointed officers in the right direction.
"As a result of these kids doing the right thing, they stepped up," Cox said. "They were responsible and they helped us."