Three bald eagles killed in Oregon, cops hunt for suspect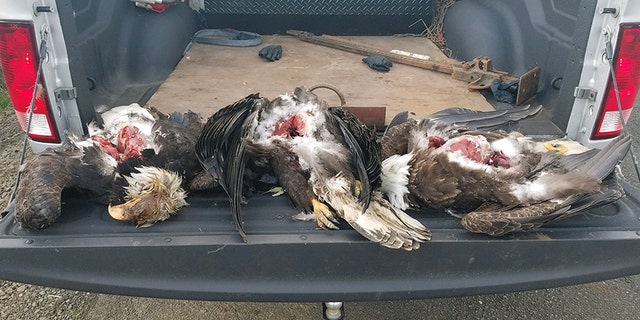 NEWYou can now listen to Fox News articles!
Three bald eagles were fatally shot in Oregon last month and authorities are seeking the public's help in obtaining information about their deaths.
A trooper with the Fish and Wildlife Division of the state police responded to a complaint on March 16 about three dead bald eagles that were in Tangent, roughly 75 miles south of Portland, a news release stated.
The officer found each eagle sustained a gunshot wound, and a veterinarian found evidence of dense metal inside each of the birds through X-rays.
Authorities believe the birds were killed just before March 16.
BALD EAGLE LANDS ON SEATTLE MARINERS PITCHER JAMES PAXTON PRIOR TO START OF NATIONAL ANTHEM
A spokesperson for the Fish and Wildlife Division told KATU last month that the fact that someone would kill a bald eagle made him physically ill.
"It defies my imagination why somebody would do something that stupid and it sort of makes me sick," Rick Swart said. "An eagle, like other raptors, is considered a non-game protected species so it's against the law to hunt them."
MARYLAND POLICE OFFICER RESCUES BALD EAGLE ON CHRISTMAS EVE
Bald eagles, the national bird of the U.S., are federally protected.
Oregon State Police asked that anyone with information contact their tip hotline at 1-800-452-7888 or send an email to tip@state.or.us.