Thousands line up in Arizona heat to pay respects to McCain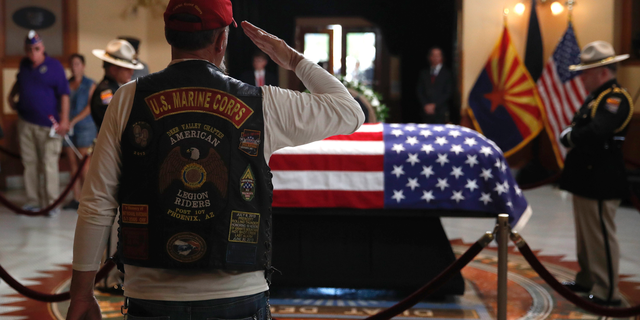 NEWYou can now listen to Fox News articles!
PHOENIX – Thousands endured triple-digit heat Wednesday and waited in long lines outside the Arizona Capitol to attend a public viewing honoring the late Sen. John McCain.
The public viewing followed the emotional private ceremony attended by the McCain family and drew a mix of people — Republicans and Democrats, Arizonans and Californians. Some of them had met McCain. Those who didn't know him still felt a need to attend.
Parents brought their children so they could witness history. Many of those in line said they were drawn to the event to honor McCain's military service. Others said they liked his politics.
And even those who didn't always agree with McCain said they owed it to him to pay their respects.
The following is a sample of those who waited in line:
___
A group of more than 80 Vietnamese residents from Orange County, California, came in on two buses. The group wore specially made yellow T-shirts that said, "We salute our hero Senator John McCain."
Derrick Nguyen, 55, said a radio station in the Little Saigon community announced it would provide bus transportation if people wanted to go pay final respects to McCain.
Nguyen, an attorney and a community organizer, said more than 100 people signed up right away, though several stayed back in California because of the heat and timing.
"We are so excited and so touched to have this opportunity to pay our respects to the late senator," Nguyen said.
McCain was beloved for his experience in fighting alongside the South Vietnamese and for supporting the families of political detainees. Nguyen said in the 1990s McCain pushed an amendment to a law that allowed for unmarried, adult children of detainees to come to the United States.
"Many, many of the families that wouldn't have made it to America made it here. And they have become U.S. citizens and good Americans," Nguyen said.
___
John Caccitolo wheeled his 4-month-old son in a stroller through the long line of people waiting to pay their respects to McCain.
Caccitolo, a staff sergeant in the Army who drove up from Tucson for the public viewing, said it's important for him to bring his son so he could have a little piece of history.
"I wanted him to be able to say that he was here when he grows up," Caccitolo said.
Caccitolo said he never met McCain, but he was impressed with his military service, including his refusal to take early release as a prisoner of war until his fellow prisoners were freed.
"To agree to stay is pretty incredible," Caccitolo said. "And when you get back (to the United States), you would think he would want to hang out at the beach. But he wanted to continue serving his country."
___
Louis Albin, an artist in Phoenix and Navy veteran, wore a sailor's cap and dressed in all white to honor McCain and his military service.
His custom-made T-shirt featured an image of a thumb's-up covered in the stars and stripes of the flag. The image is a play on McCain's thumb's-down vote that sank President Donald Trump's repeal of the Affordable Care Act.
Albin turned the thumb up as a wink to McCain's vote, of which Albin approved.
Albin said he got to know McCain over the years at town hall meetings as the senator responded to the scandal at the U.S. Department of Veterans Affairs in which whistleblowers revealed that veterans on secret waiting lists faced delays in their health care of up to a year.
"He knew me," Albin said. "He didn't know my name or anything. But he knew me from the events."
Albin said he voted for McCain, but he didn't always agree with him. He disapproved of McCain's role in the savings and loan scandal in the 1980s.
"But as person, I liked him," Albin said.
___
Two groups who traveled to Arizona from San Diego to pay their respects to McCain began waiting outside in the approaching-triple-digit heat at 7 a.m. — about six hours before the beginning of the public viewing.
Mike Foley, a retired developer, bought a plane ticket to Phoenix after hearing McCain's casket would lie in the old state capitol.
"The question was what can I do to honor the man and show support," Foley said. "I just wanted to be here."
With him were Barry and Linda Vittori, who separately made the roughly five-hour drive Tuesday night. "He epitomizes what I think our forefathers were hoping our country would be," Linda Vittori said.
Just ahead of the San Diego contingent was Regina Akerson, 17, who also arrived around 7 a.m. She is a Phoenix high school senior who wrote a report on McCain her freshman year.
This year she needs to attend a government ceremony for a class and decided she could wait hours in the sun to pay her respects to McCain and fulfill that requirement.
"He's a legend," she said. "I always respected him."
___
Kassandra Morales stood in line with her sons, ages 8 and 2. The single mother and Democrat, who also brought a bouquet of flowers, said she has always looked up to McCain.
"I've been following John McCain since I was 18 years old," she said. "Even though I was a Democrat, I always voted for John McCain."
A mother of 10, Morales plans to come back later in the day with her older kids.
"Yesterday I asked my son who his hero was. He gave me a rapper's name," Morales said. "I brought my children here to show them what a real hero was."
___
Ray Riordan, an 87-year-old Navy veteran who fought in the Korean War, came from Payson, Arizona, to see McCain lying in state.
"I've always admired him, especially when he was a maverick," Riordan said.
He said he felt a kinship with McCain in that they both grew up in an era where "respect was a cornerstone of life."
"I grew up where a handshake was a contract, and your word was your bond," Riordan said. "He represented the last of that as far as I'm concerned."
"He was one of the ones who stood up for things," he said. "Everyone else is all focused on the party, not the people."
___
Phil Hubbard, a health care recruiter who lives in Scottsdale, held cold water bottles in each of his hands as he waited outside the statehouse complex in noontime heat waiting to pay his respects to McCain.
Hubbard, who voted for McCain but never had an encounter with him, said he was drawn to the public viewing to honor McCain's approach in defending his principles.
McCain showed that people must stand up for their beliefs, regardless of how they are received.
"He believed in something," Hubbard said. "That's what he did, and that's what a lot of people need to do in this country. If you believe in something, stand up for it, whether it's popular or not."
___
Richard Blanco of Glendale, Arizona, said McCain's service to his country inspired him to attend the public viewing.
Blanco said he was impressed by McCain's refusal to take early release as a prisoner of war until his fellow prisoners were freed.
When McCain was shot down over Vietnam and taken prisoner, his father was poised to assume command over the entire Pacific theater, and his captors knew they had a potential propaganda coup on their hands.
"Knowing who his father was, he could have been out of that camp so quick but he chose not to," Blanco said. "And I think that alone says so much about him — about who he is and what he stood for."
Blanco, who voted for McCain, noted he didn't always agree with him. But that's all right, Blanco said.
"If we are able to just let those differences go and look at him for the man that he was and for the life that he lived, you are able to see past a lot of that stuff — and it doesn't really matter," Blanco said. "There needs to be more men like John McCain."
___
Jesus Rojas, a mariachi singer, strummed his guitar while singing "Cielito Lindo " as a tribute outside the state Capitol.
Rojas said he lived near McCain's ranch in Cornville, Arizona, for 15 years. He said he and his family periodically provided entertainment for parties at McCain's home there.
"When I see the news, it hurts me real bad," Rojas said. "I tell my family I come here and play for him."
___
Christian Albrecht, an Air Force veteran from Peoria, Arizona, waited nearly an hour to see McCain's casket. When he did, he opted for a verbal tribute in the form of a typical military cry.
"He deserves that kind of respect. It's the ultimate form of respect you can give to someone," Albrecht said.
Albrecht said the chance to see him was very moving and a "once-in-a-lifetime opportunity."
___
Nancy Gottschalk of Cottonwood, Arizona, decided at the last minute Wednesday morning to leave work and pick up her 5-year-old son, Joseph, and come to the statehouse.
"I'm a registered Democrat. I don't know that I've ever voted for John McCain, but I just love how much I respect him," she said.
Gottschalk, who was tearing up after, said she knew the experience would be very emotional. Upon stepping near his casket, she and Joseph made the gesture for "thank you" in sign language.
"I just wanted Joseph to see a person's life to aspire to," she said. "Someday, he'll understand why I pulled him out of school."